Paneer Kaju Curry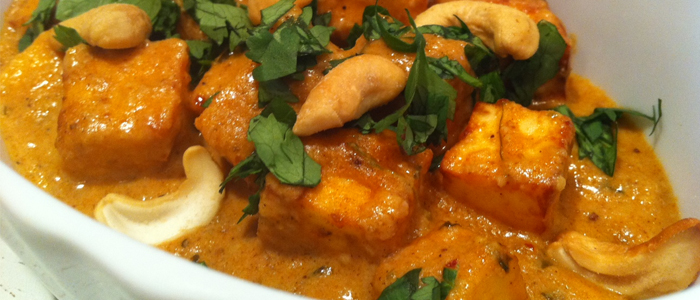 ---
| | | |
| --- | --- | --- |
| Cuisine | : | Indian |
| Calories | : | 802 |
| Type | : | Vegetarian |
| | | |
| --- | --- | --- |
| Serving Size | : | 2 |
| Course | : | Main |
| Preparation Time | : | 40 Min |
---
INGREDIENTS
| No | Ingredient | Quantity | Measure Type |
| --- | --- | --- | --- |
| 1 | Khoya | 200 | Gms |
| 2 | Paneer | 200 | Gms |
| 3 | Cashew nuts | 100 | Gms |
| 4 | Raisins | 20 | Gms |
| 5 | Green cardamoms | 4 to 5 | |
| 6 | Cinnamon | 1 | |
| 7 | Clove | 5 | |
| 8 | Bay leaves | 2 to 3 | |
| 9 | Salt | to taste | |
| 10 | Turmeric powder | 1/4 | Teaspoon |
| 11 | Garam masala powder | 1/4 | Teaspoon |
| 12 | Desiccated coconut | 1 | Tablespoon |
| 13 | Onion | 2 | |
| 14 | Ghee | 2 | Tablespoon |
| 15 | Coriander leaves | | |
| 16 | Tomato | 2 | |
| 17 | Garlic | 5 | |
| 18 | Ginger | 1 | |
---
Recipe Details
Paneer Kaju curry is a very rich side dish for rice/roti/biryani/naan/pulao or whatever you like to have it with.
---
Cooking Instructions
Melt butter in a kadai.
Fry paneer and cashew nuts on medium heat till they are golden in color put it on side.
take a another pan with enough oil or butter fry onion till golden brown.
now add tomatoes, garlic and ginger and cook till tomatoes are done.
take green cardamoms, cinnamon, cloves, coconut and grind it to a fine paste.
add this paste in to onion tomato mixture & fry this paste for a minute, then add salt, bay leaves, red chilli powder, turmeric powder, garam masala.
when oil leaves a side add cashew nuts, raisin, paneer, khoya and ½ cup water. Cover and cook for 2-3 min.
---
Garnishing Instructions
Garnish with coriander leaves and grated paneer before serving.
---
Serving Instructions
Serve it hot with chapathi or Naan.
---
Related Recipes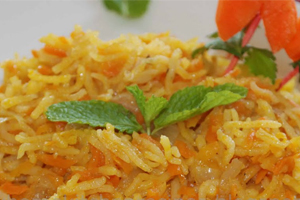 Carrot Rice
---
| | | |
| --- | --- | --- |
| Type | :&nbsp&nbsp | Vegetarian |
| Calories | :&nbsp&nbsp | 179 |
| Cuisine | :&nbsp&nbsp | Indian |
| Course | :&nbsp&nbsp | Main |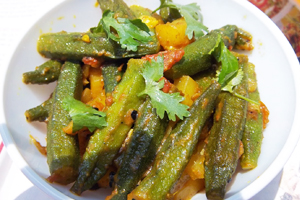 Indian Style Okra
---
| | | |
| --- | --- | --- |
| Type | :&nbsp&nbsp | Vegetarian |
| Calories | :&nbsp&nbsp | 126 |
| Cuisine | :&nbsp&nbsp | Indian |
| Course | :&nbsp&nbsp | Main |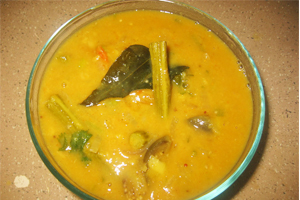 Sambar
---
| | | |
| --- | --- | --- |
| Type | :&nbsp&nbsp | Vegetarian |
| Calories | :&nbsp&nbsp | 306 |
| Cuisine | :&nbsp&nbsp | Indian |
| Course | :&nbsp&nbsp | Main |