Palak Soup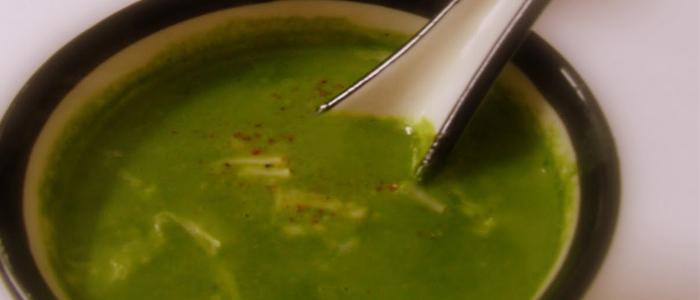 ---
| | | |
| --- | --- | --- |
| Cuisine | : | Indian |
| Calories | : | 88 |
| Type | : | Vegetarian |
| | | |
| --- | --- | --- |
| Serving Size | : | 2 |
| Course | : | Soup |
| Preparation Time | : | 30 Min |
---
INGREDIENTS
| No | Ingredient | Quantity | Measure Type |
| --- | --- | --- | --- |
| 1 | Spinach | 2 | Cup |
| 2 | Onion | 1 | |
| 3 | Corn flour | 2 | Teaspoon |
| 4 | Butter | 2 | Teaspoon |
| 5 | Black pepper | 1 | Teaspoon |
| 6 | Water | 1 & 1/2 cu | |
| 7 | Salt | To taste | |
| 8 | Garlic | 2 | |
| 9 | Toasted bread pieces | | |
---
Recipe Details
This Palak soup is a good way to include healthy greens in your diet. despite being one of the healthiest greens, not everyone likes the taste of spinach and that is specially true in the case of some kids and adults alike.
---
Cooking Instructions


Heat 1 tsp Butter in a pan.
Add Spinach and fry for 2 mins. Add 1 cup of Water, Onion and Garlic cloves. Cook till the Spinach leaves becomes tender. Remove & cool.
Grind the cooled mixture into a smooth puree.
Heat remaining Butter. Add spinach puree. Bring to a boil.
Mix Corn flour in remaining Water and add it to the Spinach mixture stirring constantly for a minute. Season with salt and pepper.
---
Garnishing Instructions
---
Serving Instructions
Serve hot with toasted Bread chunks on top or fresh Cream.
---
Related Recipes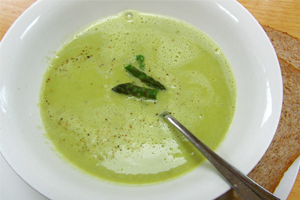 Fresh Asparagus Soup
---
| | | |
| --- | --- | --- |
| Type | :&nbsp&nbsp | Vegetarian |
| Calories | :&nbsp&nbsp | 167 |
| Cuisine | :&nbsp&nbsp | German |
| Course | :&nbsp&nbsp | Soup |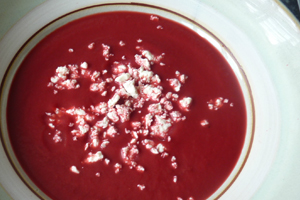 Tomato-Beetroot Soup
---
| | | |
| --- | --- | --- |
| Type | :&nbsp&nbsp | Vegetarian |
| Calories | :&nbsp&nbsp | 151 |
| Cuisine | :&nbsp&nbsp | Indian |
| Course | :&nbsp&nbsp | Soup |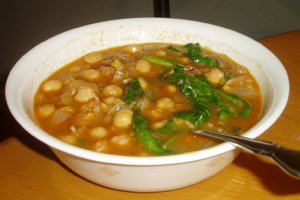 Chick Pea Soup
---
| | | |
| --- | --- | --- |
| Type | :&nbsp&nbsp | Vegetarian |
| Calories | :&nbsp&nbsp | 955 |
| Cuisine | :&nbsp&nbsp | Indian |
| Course | :&nbsp&nbsp | Soup |