Pakora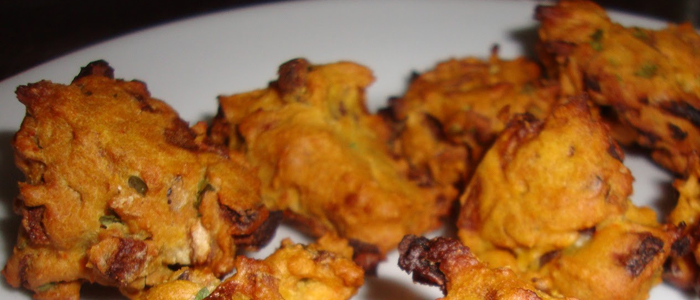 ---
| | | |
| --- | --- | --- |
| Cuisine | : | Indian |
| Calories | : | 76 |
| Type | : | Vegetarian |
| | | |
| --- | --- | --- |
| Serving Size | : | 2 |
| Course | : | Appetizer |
| Preparation Time | : | 15 Min |
---
INGREDIENTS
| No | Ingredient | Quantity | Measure Type |
| --- | --- | --- | --- |
| 1 | Gram flour (besan) | 1/2 | Pound |
| 2 | Salt | 1 | Teaspoon |
| 3 | Red chilli powder | 1 | Teaspoon |
| 4 | Coriander powder | 1 | Teaspoon |
| 5 | Black pepper | 1/2 | Teaspoon |
| 6 | Onion | 1 | |
| 7 | Potato | 1 | |
| 8 | Oil | | |
| 9 | Water | | |
| 10 | Spinach | (optinoal) | |
| 11 | Cabbage | (optinoal) | |
| 12 | Baking soda | 1/4 | Teaspoon |
| 13 | Egg | | |
---
Recipe Details
pakora
or
pakoda
are basically indian fritters made with gram flour.
pakoras
are fried, crisp snacks made with different veggies.
---
Cooking Instructions
Mix all dry ingredients in a bowl and add enough water to make a paste.
Mix well.
Take spoonful at a time from the bowl of paste and deep fry it in hot oil til golden brown.
---
Garnishing Instructions
---
Serving Instructions
Serve with dipping sauces.(Recommended :- MAGGI Tomato Ketchup, MAGGI Chili
Sauce, MAGGI Hot Chili Sauce, MAGGI Chili Garlic)
---
Related Recipes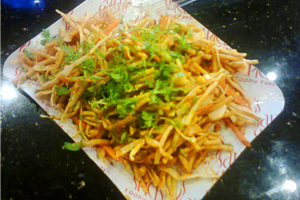 Noodle Bhel
---
| | | |
| --- | --- | --- |
| Type | :&nbsp&nbsp | Vegetarian |
| Calories | :&nbsp&nbsp | 73 |
| Cuisine | :&nbsp&nbsp | Indian |
| Course | :&nbsp&nbsp | Appetizer |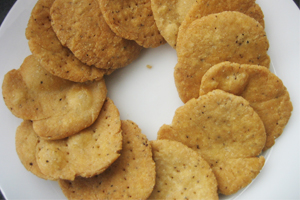 Mathri (Materi)
---
| | | |
| --- | --- | --- |
| Type | :&nbsp&nbsp | Vegetarian |
| Calories | :&nbsp&nbsp | 30 |
| Cuisine | :&nbsp&nbsp | Indian |
| Course | :&nbsp&nbsp | Appetizer |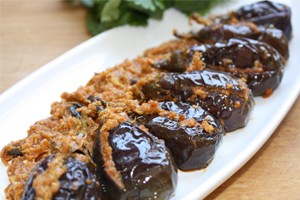 Stuffed Brinjal
---
| | | |
| --- | --- | --- |
| Type | :&nbsp&nbsp | Vegetarian |
| Calories | :&nbsp&nbsp | 163 |
| Cuisine | :&nbsp&nbsp | Indian |
| Course | :&nbsp&nbsp | Appetizer |