Mediterranean Greek Salad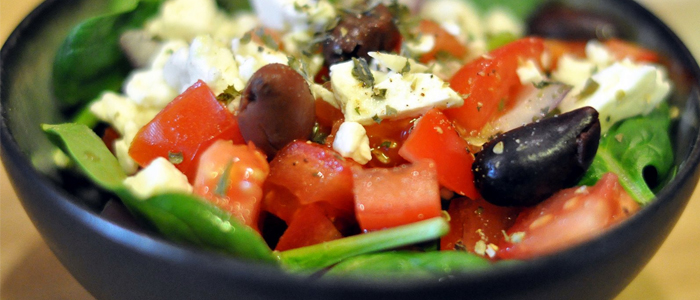 ---
| | | |
| --- | --- | --- |
| Cuisine | : | Greek |
| Calories | : | 131 |
| Type | : | Vegetarian |
| | | |
| --- | --- | --- |
| Serving Size | : | 8 |
| Course | : | Appetizer |
| Preparation Time | : | 10 Min |
---
INGREDIENTS
| No | Ingredient | Quantity | Measure Type |
| --- | --- | --- | --- |
| 1 | Cucumber | 3 | |
| 2 | Feta cheese | 1 & 1/2 | Cup |
| 3 | Red Onion | 1/2 | |
| 4 | Black olives | 1 | Cup |
| 5 | Roma tomatoes | 3 | Cup |
| 6 | Sun-dried tomatoes | 1/3 | Cup |
---
Recipe Details
This is a great salad to take to a barbeque. All ingredients are approximate, so add more or less of any ingredient depending on your own taste.
---
Cooking Instructions
I
n a large salad bowl, toss together the cucumbers, feta cheese, olives, roma tomatoes, sun-dried tomatoes, 2 tablespoons reserved sun-dried tomato oil, and red onion. Chill until serving.
---
Garnishing Instructions
Not available.
---
Serving Instructions
Refrigerate before serving.
---