Mathri (Materi)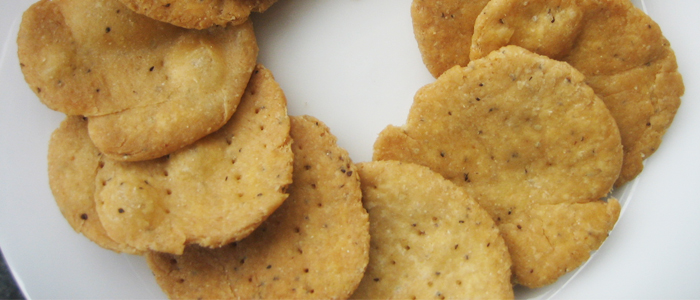 ---
| | | |
| --- | --- | --- |
| Cuisine | : | Indian |
| Calories | : | 30 |
| Type | : | Vegetarian |
| | | |
| --- | --- | --- |
| Serving Size | : | 4 |
| Course | : | Appetizer |
| Preparation Time | : | 40 Min |
---
INGREDIENTS
| No | Ingredient | Quantity | Measure Type |
| --- | --- | --- | --- |
| 1 | Maida | 2 | Cup |
| 2 | Ghee | 2 | Tablespoon |
| 3 | Salt | to taste | |
| 4 | Warm water | 1/2 | Cup |
| 5 | Oil | | |
| 6 | Ajwain (Carom seeds) | 1/2 | Teaspoon |
---
Recipe Details
---
Cooking Instructions
Sieve maida.
In a bowl,mix maida, ajwain, salt, melted ghee.
Add water gradually and mix well and knead into a stiff dough.
Cover for 20 minutes.
Divide the dough into 25 small portions and roll it with the rolling pin to form a puri shape of 3".
It should be thicker than puri and roti and should be of the cookies thickness.(Like Macvites biscuits)
Prick them with the fork so that it wont raise like puris.
Heat oil in a frying pan and once its heated up,please reduce to low flame.
Add mathris and when it turns golden,Flip to other side and take out when it becomes golden brown.
Drain the excess oil completely.
Allow it to cool for sometime.
Store in air-tight container.
---
Garnishing Instructions
Not available
---
Serving Instructions
Serve with pickle and tea.
---
Related Recipes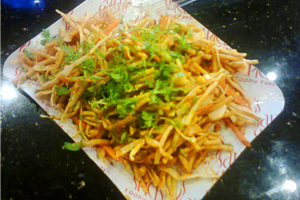 Noodle Bhel
---
| | | |
| --- | --- | --- |
| Type | :&nbsp&nbsp | Vegetarian |
| Calories | :&nbsp&nbsp | 73 |
| Cuisine | :&nbsp&nbsp | Indian |
| Course | :&nbsp&nbsp | Appetizer |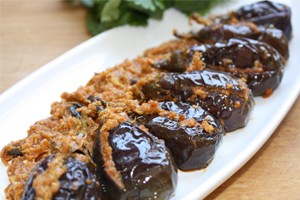 Stuffed Brinjal
---
| | | |
| --- | --- | --- |
| Type | :&nbsp&nbsp | Vegetarian |
| Calories | :&nbsp&nbsp | 163 |
| Cuisine | :&nbsp&nbsp | Indian |
| Course | :&nbsp&nbsp | Appetizer |