Malai Bhindi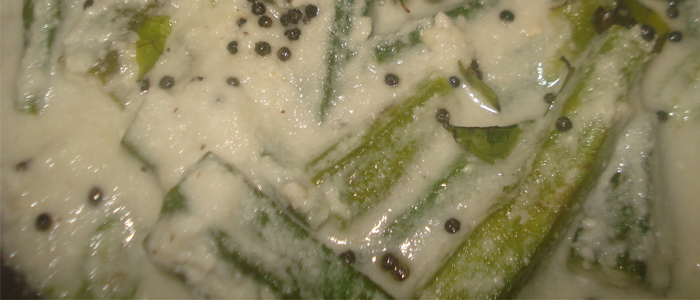 ---
| | | |
| --- | --- | --- |
| Cuisine | : | Indian |
| Calories | : | 250 |
| Type | : | Vegetarian |
| | | |
| --- | --- | --- |
| Serving Size | : | 4 |
| Course | : | Main |
| Preparation Time | : | 20 Min |
---
INGREDIENTS
| No | Ingredient | Quantity | Measure Type |
| --- | --- | --- | --- |
| 1 | Lady fingers | 250 | Gms |
| 2 | Onion | 2 | |
| 3 | Tomato paste | 1 | |
| 4 | Cream | 1/2 | Cup |
| 5 | Red chilli powder | 1 | Teaspoon |
| 6 | Turmeric powder | 1/2 | Teaspoon |
| 7 | Coriander powder | 1/2 | Teaspoon |
| 8 | Jeera powder | 1/2 | Teaspoon |
| 9 | Kasoori methi | 1 | Teaspoon |
| 10 | Salt | to taste | |
| 11 | Oil | 1/2 | Cup |
| 12 | Water | 1/4 | Cup |
| 13 | Mustard seeds | 1/2 | Teaspoon |
| 14 | Ginger-garlic paste | 1/2 | Teaspoon |
---
Recipe Details
very easy to make & very tasty to eat, just try once u wll make it always.
---
Cooking Instructions
wash lady fingers & cut them diagonally in big pieces about 2 to 3 piece per bhindi
add little oil in a pan or kadhai, after oil get hot put muster seeds & let it bust than add crushed kasuri methi
add onion paste & salt & let it become golden brown
add ginger garlic paste & cook for 1 minute
add tomato paste, chili powder,turmeric powder, dhania,zeera powder & cream
cook till the oil get separate. than add fried ladyfingers.
add water & closed lead,cook for 3 to 4 minutes.
---
Garnishing Instructions
Not available.
---
Serving Instructions
serve hot with chapattis.
---
Related Recipes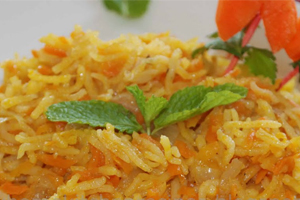 Carrot Rice
---
| | | |
| --- | --- | --- |
| Type | :&nbsp&nbsp | Vegetarian |
| Calories | :&nbsp&nbsp | 179 |
| Cuisine | :&nbsp&nbsp | Indian |
| Course | :&nbsp&nbsp | Main |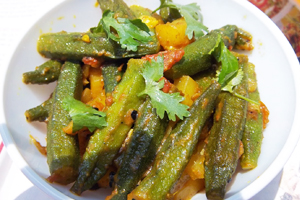 Indian Style Okra
---
| | | |
| --- | --- | --- |
| Type | :&nbsp&nbsp | Vegetarian |
| Calories | :&nbsp&nbsp | 126 |
| Cuisine | :&nbsp&nbsp | Indian |
| Course | :&nbsp&nbsp | Main |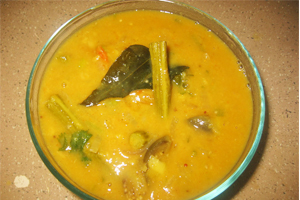 Sambar
---
| | | |
| --- | --- | --- |
| Type | :&nbsp&nbsp | Vegetarian |
| Calories | :&nbsp&nbsp | 306 |
| Cuisine | :&nbsp&nbsp | Indian |
| Course | :&nbsp&nbsp | Main |