Lavender Creme Brulee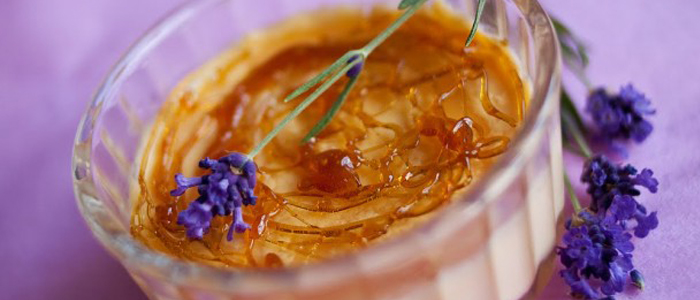 ---
| | | |
| --- | --- | --- |
| Cuisine | : | French |
| Calories | : | 536 |
| Type | : | Eggetarian |
| | | |
| --- | --- | --- |
| Serving Size | : | 6 |
| Course | : | Dessert |
| Preparation Time | : | 105 Min |
---
INGREDIENTS
| No | Ingredient | Quantity | Measure Type |
| --- | --- | --- | --- |
| 1 | Heavy cream | 1 & 1/2 | Cup |
| 2 | Light cream | 1/2 | Cup |
| 3 | Dried culinary lavender | 1 & 1/2 | Tablespoon |
| 4 | Egg yolks | 8 | |
| 5 | Granulated sugar | 1/4 | Cup |
| 6 | Vanilla extract | 1/2 | Teaspoon |
| 7 | Granulated sugar | 1/3 | Cup |
---
Recipe Details
Clean flavored lavender and a hint of vanilla give this lavender creme brulee recipe its signature flavor. The perfume of the flowers is what really gives this special dessert the feel of Provence. Try it with a bunch of lavender from your garden, or your local farmer's market. Make sure to buy only lavender intended for culinary uses.
---
Cooking Instructions
Preheat the oven to 300F. Arrange 6 custard cups in a large pan with sides at least 1 1/2 inches deep.
In a medium saucepan set over medium heat, bring the heavy cream, half and half, and dried lavender just to a boil, and then remove it from the heat. Allow it to cool to room temperature on the countertop for 45 minutes. Pour the lavender-infused cream through a fine-mesh sieve into a clean bowl and set it aside for a moment. Rinse the sieve for later use and discard the used lavender.
Whisk the egg yolks in a large bowl until they turn frothy and bright yellow. Slowly whisk 1/3 cup sugar, the lavender cream, and vanilla extract into the beaten eggs. Beat the mixture for 90 seconds.
Pour the eggs and cream through a medium-mesh sieve into a large (4 cup) liquid measuring cup. Divide the mixture between 6 custard cups and fill the large pan with hot water half-way up the sides of the ramekins.
Bake the custard in the hot-water bath for 55 minutes to 1 hour, until the custard is set, but still moves a bit in the center when jiggled. Cool the custard in the water bath for 20 minutes, and then refrigerate them until they are chilled.
Sprinkle the remaining 1/4 cup granulated sugar over tops of the custards and caramelize the sugar with a small, handheld kitchen torch. Serve immediately.
---
Garnishing Instructions
Not Available.
---
Serving Instructions
If you don't have a torch, place creme brulees 6 inches below the broiler for 4 to 6 minutes or until sugar bubbles and turns golden brown. Refrigerate crème brulees at least 10 minutes before serving.
---
Related Recipes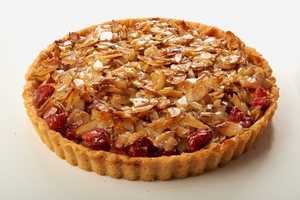 Cherry & almond tarts
---
| | | |
| --- | --- | --- |
| Type | :&nbsp&nbsp | Eggetarian |
| Calories | :&nbsp&nbsp | 352 |
| Cuisine | :&nbsp&nbsp | English |
| Course | :&nbsp&nbsp | Dessert |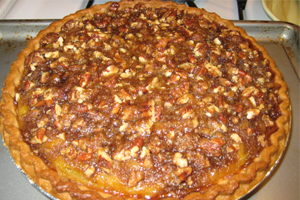 Caramel-Pecan Pumpkin Pie
---
| | | |
| --- | --- | --- |
| Type | :&nbsp&nbsp | Eggetarian |
| Calories | :&nbsp&nbsp | 446 |
| Cuisine | :&nbsp&nbsp | American |
| Course | :&nbsp&nbsp | Dessert |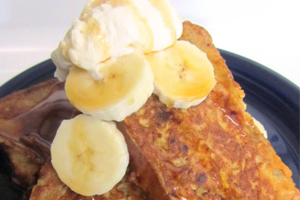 French Toast Panini With Grill..
---
| | | |
| --- | --- | --- |
| Type | :&nbsp&nbsp | Eggetarian |
| Calories | :&nbsp&nbsp | 650 |
| Cuisine | :&nbsp&nbsp | French |
| Course | :&nbsp&nbsp | Dessert |