Kashmiri Lamb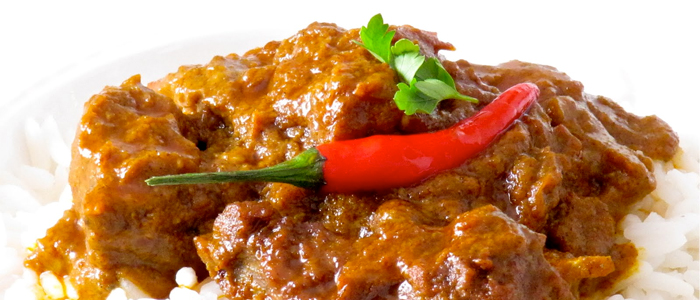 ---
| | | |
| --- | --- | --- |
| Cuisine | : | Indian |
| Calories | : | 489 |
| Type | : | Non Vegetarian |
| | | |
| --- | --- | --- |
| Serving Size | : | 6 |
| Course | : | Main |
| Preparation Time | : | 125 Min |
---
INGREDIENTS
| No | Ingredient | Quantity | Measure Type |
| --- | --- | --- | --- |
| 1 | Cumin seed | 1 | Teaspoon |
| 2 | Green chile peppers | 3 | |
| 3 | Red pepper | 4 | Teaspoon |
| 4 | Kashmiri garam masala | 1 | Teaspoon |
| 5 | Ginger | 1 | |
| 6 | Garlic | 5 | Clove |
| 7 | Unsweetened coconut | 1/4 | Cup |
| 8 | Tomato | 3 | |
| 9 | Vegetable oil | 6 | Tablespoon |
| 10 | Onion | 2 | |
| 11 | Lamb meat | 2 | Pound |
| 12 | Salt | | To taste |
| 13 | Ground turmeric | 1/2 | Teaspoon |
| 14 | Yoghurt | 1 | Cup |
| 15 | Saffron | 1/2 | Teaspoon |
| 16 | Almonds | 20 | |
| 17 | Cilantro | 1/4 | Cup |
---
Recipe Details
This recipe has been with me for over 30 years; it was given to me by a Kashmiri guy I shared a house with when I was 17. This is his mum's family recipe. Kashmir's cuisine combines the area's fruits and nuts with the ingredients and the cooking style of the Moghuls. This rich stew makes a marvelous main dish. Serve it with hot steamed rice or crusty breads.
---
Cooking Instructions
Place red chiles, green chiles, cumin seeds, garam masala, ginger, garlic, grated coconut, and tomatoes into a blender; pulse several times to chop, then blend into a smooth paste.

Heat vegetable oil in a large skillet or Dutch oven over medium heat. Stir in onion; cook and stir until the onion has softened and turned translucent, about 5 minutes. Reduce heat to medium-low, and continue cooking and stirring until the onion is very tender and golden brown, 10 to 15 minutes more.

Stir the spice paste into the onion and cook and stir until the oil separates from the mixture, about 3 minutes.

Stir in lamb pieces and salt. Cook, stirring frequently over medium-high heat, until the lamb pieces are browned on all sides, about 8 minutes.

Mix in yogurt, saffron, and blanched almonds until well combined.

Reduce the heat to low and simmer, covered, until the meat is tender and the gravy is thick, about 1 hour.
---
Garnishing Instructions
Garnish the curry with chopped cilantro before serving.
---
Serving Instructions
Serve it with hot steamed rice or crusty breads.
---
Related Recipes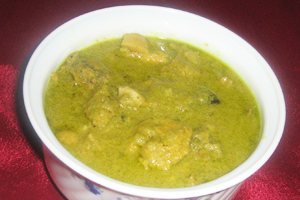 Spicy Indian Chicken with Gree..
---
| | | |
| --- | --- | --- |
| Type | :&nbsp&nbsp | Non Vegetarian |
| Calories | :&nbsp&nbsp | 190 |
| Cuisine | :&nbsp&nbsp | Indian |
| Course | :&nbsp&nbsp | Main |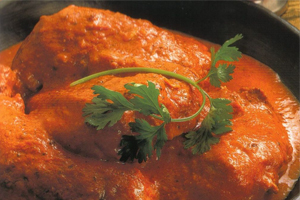 Chicken Curry (Murgh Kari)
---
| | | |
| --- | --- | --- |
| Type | :&nbsp&nbsp | Non Vegetarian |
| Calories | :&nbsp&nbsp | 427 |
| Cuisine | :&nbsp&nbsp | Indian |
| Course | :&nbsp&nbsp | Main |