Italian Lamb Stew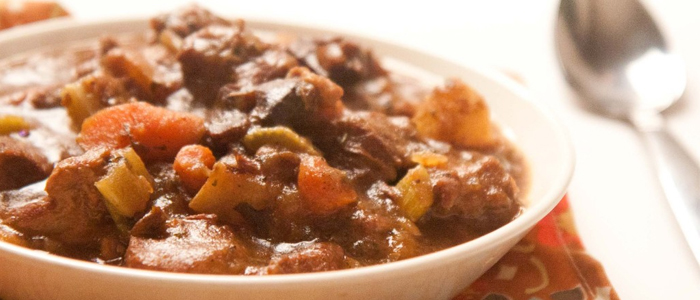 ---
| | | |
| --- | --- | --- |
| Cuisine | : | Italian |
| Calories | : | 389 |
| Type | : | Non Vegetarian |
| | | |
| --- | --- | --- |
| Serving Size | : | 6 |
| Course | : | Main |
| Preparation Time | : | 95 Min |
---
INGREDIENTS
| No | Ingredient | Quantity | Measure Type |
| --- | --- | --- | --- |
| 1 | Olive oil | 2 | Tablespoon |
| 2 | Boneless leg of lamb | 1 & 1/2 | Pound |
| 3 | Salt and pepper | | To taste |
| 4 | Garlic | 5 | |
| 5 | Red wine vinegar | 1/2 | Cup |
| 6 | Chicken broth | 1/2 | Cup |
| 7 | Tomato | 4 | Cup |
| 8 | Oregano | 1 | Teaspoon |
| 9 | Bay leaf | 1 | |
| 10 | Potato | 4 | |
| 11 | Green beans | 2 | Cup |
| 12 | Red bell pepper | 1 | |
| 13 | Zucchini | 2 | |
| 14 | Parsley | 3 | Tablespoon |
---
Recipe Details
This lamb stew is a lighter version of more traditional recipes, but still provides the comfort of those heartier stews. It is a great way to make use of those extra vegetables from your garden. Serve with crusty rolls.
---
Cooking Instructions
---
Garnishing Instructions
Not available.
---
Serving Instructions
Remove the bay leaf and season with salt and pepper before serving.
---
Related Recipes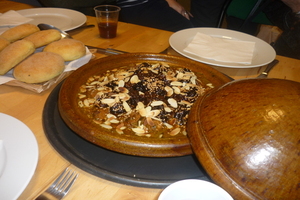 Moroccan Tagine
---
| | | |
| --- | --- | --- |
| Type | :&nbsp&nbsp | Non Vegetarian |
| Calories | :&nbsp&nbsp | 159 |
| Cuisine | :&nbsp&nbsp | Moroccan |
| Course | :&nbsp&nbsp | Main |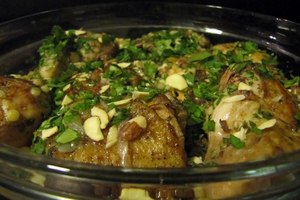 Moroccan Chicken
---
| | | |
| --- | --- | --- |
| Type | :&nbsp&nbsp | Non Vegetarian |
| Calories | :&nbsp&nbsp | 370 |
| Cuisine | :&nbsp&nbsp | Moroccan |
| Course | :&nbsp&nbsp | Main |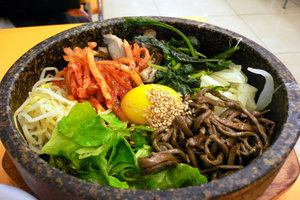 Dol Sot Bi Bim Bap
---
| | | |
| --- | --- | --- |
| Type | :&nbsp&nbsp | Non Vegetarian |
| Calories | :&nbsp&nbsp | 560 |
| Cuisine | :&nbsp&nbsp | Korean |
| Course | :&nbsp&nbsp | Main |