Idli 65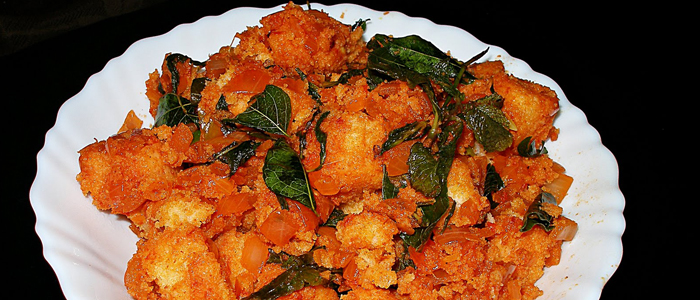 ---
| | | |
| --- | --- | --- |
| Cuisine | : | Indian |
| Calories | : | 31 |
| Type | : | Vegetarian |
| | | |
| --- | --- | --- |
| Serving Size | : | 4 |
| Course | : | Appetizer |
| Preparation Time | : | 15 Min |
---
INGREDIENTS
| No | Ingredient | Quantity | Measure Type |
| --- | --- | --- | --- |
| 1 | Cooked Idli | 4 | |
| 2 | Bengal gram flour | 2 | Tablespoon |
| 3 | Red chilli powder | 2 | Teaspoon |
| 4 | Turmeric powder | 1 | Teaspoon |
| 5 | Garam masala | 1 | Teaspoon |
| 6 | Curd | 2 | Tablespoon |
| 7 | Salt | to taste | |
| 8 | Oil | | |
| 9 | Ginger-garlic paste | 1 | Teaspoon |
---
Recipe Details
Very easy and tasty snack children favorite snacks.
---
Cooking Instructions
Take a bowl, add gram four, chilly powder, turmeric, garam masala, ginger and garlic paste, salt and curd.
Mix well.,Marinate the idly strips in the above mixture for 20 mins.
Heat oil in tawa, roast the idly strips on all sides till golden brown and crisp.
---
Garnishing Instructions
Not available.
---
Serving Instructions
---
Related Recipes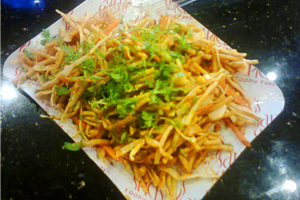 Noodle Bhel
---
| | | |
| --- | --- | --- |
| Type | :&nbsp&nbsp | Vegetarian |
| Calories | :&nbsp&nbsp | 73 |
| Cuisine | :&nbsp&nbsp | Indian |
| Course | :&nbsp&nbsp | Appetizer |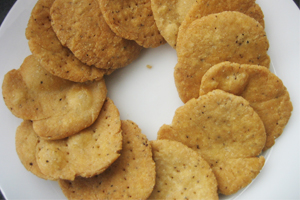 Mathri (Materi)
---
| | | |
| --- | --- | --- |
| Type | :&nbsp&nbsp | Vegetarian |
| Calories | :&nbsp&nbsp | 30 |
| Cuisine | :&nbsp&nbsp | Indian |
| Course | :&nbsp&nbsp | Appetizer |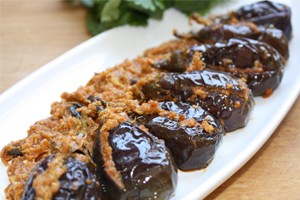 Stuffed Brinjal
---
| | | |
| --- | --- | --- |
| Type | :&nbsp&nbsp | Vegetarian |
| Calories | :&nbsp&nbsp | 163 |
| Cuisine | :&nbsp&nbsp | Indian |
| Course | :&nbsp&nbsp | Appetizer |