Hummus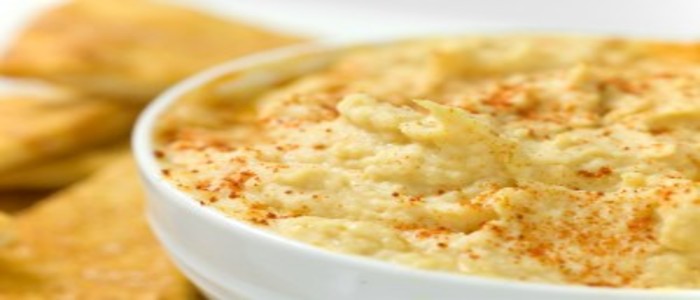 ---
| | | |
| --- | --- | --- |
| Cuisine | : | Middle Eastern |
| Calories | : | 54 |
| Type | : | Vegetarian |
| | | |
| --- | --- | --- |
| Serving Size | : | 20 |
| Course | : | Accompliments |
| Preparation Time | : | 15 Min |
---
INGREDIENTS
| No | Ingredient | Quantity | Measure Type |
| --- | --- | --- | --- |
| 1 | Olive oil | 2 | Tablespoon |
| 2 | Lemon juice | 4 | Tablespoon |
| 3 | Tahini | 2 | Tablespoon |
| 4 | Salt | 1 | Teaspoon |
| 5 | Black pepper | To taste | |
| 6 | Garbanzo beans | 1 | Can |
| 7 | Garlic | 1 | Clove |
| 8 | Garlic | 1 | Clove |
---
Recipe Details
This hummus is a family recipe passed down from many generations. Eat with warm pita bread.
---
Cooking Instructions
In a blender, chop the garlic. Pour garbanzo beans into blender, reserving about a tablespoon for garnish. Place lemon juice, tahini, chopped garlic and salt in blender. Blend until creamy and well mixed. Transfer the mixture to a medium serving bowl. Sprinkle with pepper and pour olive oil over the top.
---
Garnishing Instructions
Garnish with reserved garbanzo beans.
---
Serving Instructions
Not Available
---