Handi Murgh Masala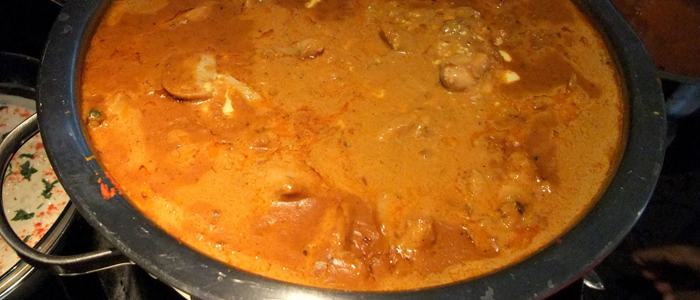 ---
| | | |
| --- | --- | --- |
| Cuisine | : | Indian |
| Calories | : | 347 |
| Type | : | Non Vegetarian |
| | | |
| --- | --- | --- |
| Serving Size | : | 6 |
| Course | : | Main |
| Preparation Time | : | 40 Min |
---
INGREDIENTS
| No | Ingredient | Quantity | Measure Type |
| --- | --- | --- | --- |
| 1 | Chicken | 1 | Kg |
| 2 | Onion | 2 | |
| 3 | Garam masala powder | 1 | Teaspoon |
| 4 | Yoghurt | 6 | Tablespoon |
| 5 | Red chilli powder | 1 | Tablespoon |
| 6 | Oil | | |
| 7 | Salt | to taste | |
| 8 | Tomato | 3 | |
| 9 | Ginger-garlic paste | 2 | Tablespoon |
| 10 | Green chiliy | 6 | |
---
Recipe Details
A handi is an earthenware pot used for slow-cooking in Pakistan. Dishes made in a handi are famous for having a wonderful earthy flavour. I saw this recipe on a Pakistani TV show - it uses a traditional recipe for chicken handi, but for modern convenience is made in a regular karhai or wok.
It is Easy to make and delicious to eat.
---
Cooking Instructions
Heat a oil in a handi and fry onion when it turns into golden brown then turn out in a dish and keep aside.
In same oil, add ginger garlic paste,salt,red chillie powder and garam masala powder and chicken, stir it very well.
Now add tomatoes and stir when tomatoes are tenderd then add yogurt and cook it very well.
Add fried and mashed onion and stir it till oil separates.
In last add green chillies and cover it with lid for 5 minutes.
---
Garnishing Instructions
Not available.
---
Serving Instructions
Serve with naan and salad.
---
Related Recipes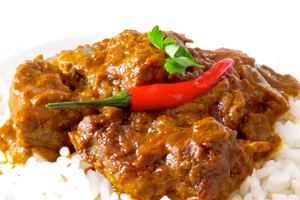 Kashmiri Lamb
---
| | | |
| --- | --- | --- |
| Type | :&nbsp&nbsp | Non Vegetarian |
| Calories | :&nbsp&nbsp | 489 |
| Cuisine | :&nbsp&nbsp | Indian |
| Course | :&nbsp&nbsp | Main |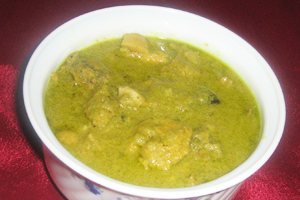 Spicy Indian Chicken with Gree..
---
| | | |
| --- | --- | --- |
| Type | :&nbsp&nbsp | Non Vegetarian |
| Calories | :&nbsp&nbsp | 190 |
| Cuisine | :&nbsp&nbsp | Indian |
| Course | :&nbsp&nbsp | Main |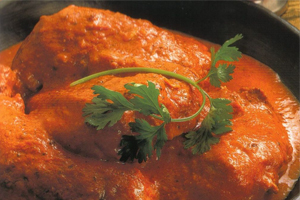 Chicken Curry (Murgh Kari)
---
| | | |
| --- | --- | --- |
| Type | :&nbsp&nbsp | Non Vegetarian |
| Calories | :&nbsp&nbsp | 427 |
| Cuisine | :&nbsp&nbsp | Indian |
| Course | :&nbsp&nbsp | Main |