German Spaetzle Dumplings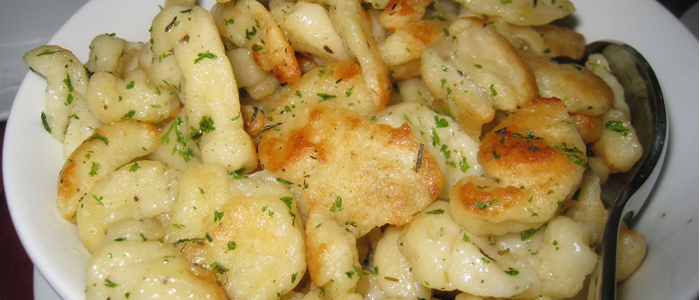 ---
| | | |
| --- | --- | --- |
| Cuisine | : | German |
| Calories | : | 141 |
| Type | : | Eggetarian |
| | | |
| --- | --- | --- |
| Serving Size | : | 6 |
| Course | : | Main |
| Preparation Time | : | 15 Min |
---
INGREDIENTS
| No | Ingredient | Quantity | Measure Type |
| --- | --- | --- | --- |
| 1 | All-purpose flour | 1 | Cup |
| 2 | Milk | 1/4 | Cup |
| 3 | Egg | 2 | |
| 4 | Ground nutmeg | 1/2 | Teaspoon |
| 5 | White pepper | 1 | Pinch |
| 6 | Salt | 1/2 | Teaspoon |
| 7 | Water | 1 | Gallon |
| 8 | Butter | 2 | Tablespoon |
| 9 | Parsley | 2 | Tablespoon |
---
Recipe Details
Traditional German dumplings. You can also mince a few pieces of bacon in a pan, and heat the cooked spaetzle in the bacon drippings-only omit the butter, if preparing recipe with bacon.
---
Cooking Instructions
Press dough through spaetzle maker, or a large holed sieve or metal grater.
Drop a few at a time into simmering liquid. Cook 5 to 8 minutes. Drain well.
Saute cooked spaetzle in butter or margarine.
---
Garnishing Instructions
Not available .
---
Serving Instructions
Sprinkle chopped fresh parsley on top, and serve.
---