French onion soup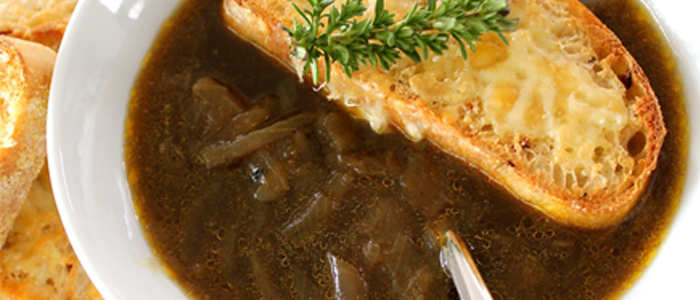 ---
| | | |
| --- | --- | --- |
| Cuisine | : | French |
| Calories | : | 168 |
| Type | : | Non Vegetarian |
| | | |
| --- | --- | --- |
| Serving Size | : | 6 to 8 |
| Course | : | Soup |
| Preparation Time | : | 30 Min |
---
INGREDIENTS
| No | Ingredient | Quantity | Measure Type |
| --- | --- | --- | --- |
| 1 | Onions | 8 | |
| 2 | Butter | 30 | Gms |
| 3 | Olive oil | 1 | Tablespoon |
| 4 | Thyme leaves | 1 | Tablespoon |
| 5 | All-purpose flour | 2 | |
| 6 | Water | 500 | Ml |
| 7 | Dijon mustard | 2 | Tablespoon |
| 8 | Beef stock | 2 | Ltr |
---
Recipe Details
This is quite a rich soup and is ideal served as a meal with toasted bread or sandwiches on the side. If serving as a starter, offer just a small bowl of French onion soup or make the main course a light one.
---
Cooking Instructions
Place the onions, butter, oil and thyme in a large saucepan over medium heat, cover and cook for 35 minutes, stirring occasionally, until soft and golden. Add the flour and cook, stirring, for 3 minutes. Add the brandy and cook, stirring, for 1 minute. Add the mustard, stock and water and allow to simmer for 15 minutes.
---
Garnishing Instructions
If you have oven-safe bowls or mugs, you can fill each with soup, then top with a slice of bread.
---
Serving Instructions
Ladle the soup into bowls and serve with toasted cheese sandwiches or parmesan toasts.
---
Related Recipes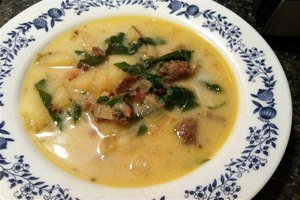 Olive Garden Copycat Zuppa Tos..
---
| | | |
| --- | --- | --- |
| Type | :&nbsp&nbsp | Non Vegetarian |
| Calories | :&nbsp&nbsp | 791 |
| Cuisine | :&nbsp&nbsp | European |
| Course | :&nbsp&nbsp | Soup |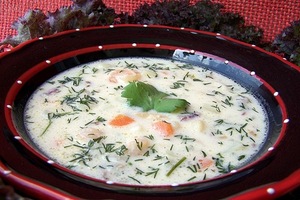 Simple seafood chowder
---
| | | |
| --- | --- | --- |
| Type | :&nbsp&nbsp | Non Vegetarian |
| Calories | :&nbsp&nbsp | 422 |
| Cuisine | :&nbsp&nbsp | American |
| Course | :&nbsp&nbsp | Soup |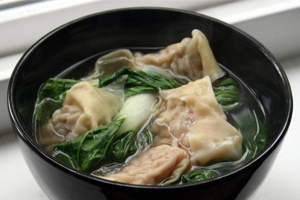 Wonton Soup
---
| | | |
| --- | --- | --- |
| Type | :&nbsp&nbsp | Non Vegetarian |
| Calories | :&nbsp&nbsp | 181 |
| Cuisine | :&nbsp&nbsp | Chinese |
| Course | :&nbsp&nbsp | Soup |