Egyptian Tomato Salad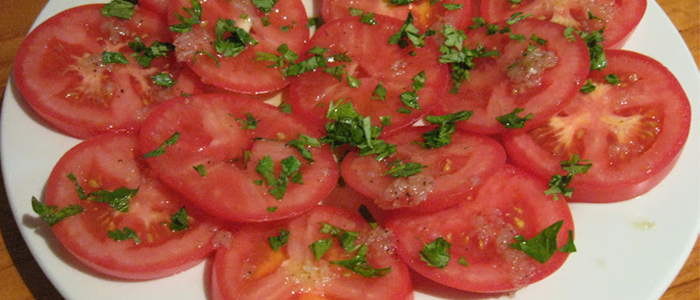 ---
| | | |
| --- | --- | --- |
| Cuisine | : | Middle Eastern |
| Calories | : | 17 |
| Type | : | Vegetarian |
| | | |
| --- | --- | --- |
| Serving Size | : | 4 |
| Course | : | Salad |
| Preparation Time | : | 15 Min |
---
INGREDIENTS
| No | Ingredient | Quantity | Measure Type |
| --- | --- | --- | --- |
| 1 | Olive oil | 3 | Tablespoon |
| 2 | | 750 | Gms |
| 3 | Lemon juice | 1 Lemon | |
| 4 | Chervil | | |
| 5 | Pepper | A pinch | |
| 6 | Salt | A pinch | |
| 7 | Shallots | 1 | |
| 8 | Garlic | 1 | Clove |
| 9 | Maldon salt | 1 | Pinch |
---
Recipe Details
Egyptian Tomato Salad is one of the most popular salads in Cairo.
It is probably the easiest recipe in Middle Eastern cuisine, its varieties being spread all over the world. The special taste of the Egyptian Tomato Salad is due to the perfect combination of ingredients that result in a refreshing salad.
---
Cooking Instructions
Chop the shallot and garlic as finely as is humanly possible - or just blitz to a pulp in a processor - and put in a small bowl with the oil, a pinch of salt and a grinding of pepper, and leave to steep while you blanche the tomatoes: that's to say, put them in a large bowl then pour boiling water over them so that they are hotly submerged. Leave for 5 minutes then tip into a colander and run under cold water.

Using a sharp knife, peel off the skins (which is now easy), then cut these fuzzy spheres into slices, as thick or as thin as you like (I like them somewhere in the middle).

Arrange the tomatoes in a dish and pour over the dressing, using your fingers to mix well. I find it easier to use one bowl for steeping purposes and another one, later, for serving. You can let the tomatoes sit like this for a good couple of hours. Yes, some liquid will collect, but the flavours will deepen wonderfully.

When you're ready to eat, either leave the dressed tomatoes in the bowl or decant to a new one, but either way, using your hands, turn them to coat, squeeze over some lemon juice, and sprinkle with

Maldon salt

and a tablespoon or so of freshly chopped chervil. Use another herb if you like, but there is one inflexible rule governing this salad: it must be served at room temperature. Leave it in the fridge until the last minute and all will be lost.
---
Garnishing Instructions
Garnish with chopped coriander.
---
Serving Instructions
When you are ready to eat, either leave the dressed tomatoes in the bowl or decant to a new one, but either way, using your han
---