Duck Soup (Czarnina)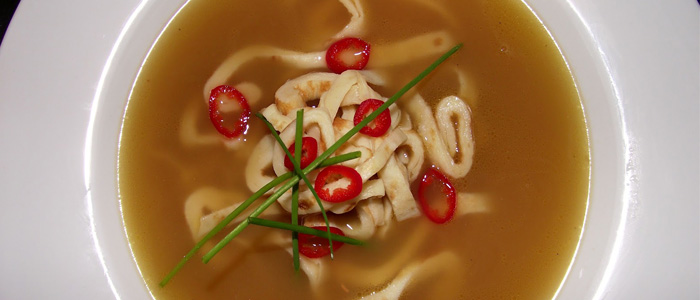 ---
| | | |
| --- | --- | --- |
| Cuisine | : | Polish |
| Calories | : | 712 |
| Type | : | Non Vegetarian |
| | | |
| --- | --- | --- |
| Serving Size | : | 12 |
| Course | : | Soup |
| Preparation Time | : | 180 Min |
---
INGREDIENTS
| No | Ingredient | Quantity | Measure Type |
| --- | --- | --- | --- |
| 1 | Wild duck | 4 | Pound |
| 2 | Duck blood | 4 | Cup |
| 3 | Water | 8 | Cup |
| 4 | Salt | 1 | Teaspoon |
| 5 | Celery | 1 | |
| 6 | Parsley | 1 | |
| 7 | Cream | 1 | Cup |
| 8 | Allspice berries | 5 | |
| 9 | Cloves | 2 | |
| 10 | Prunes | 16 | Ounces |
| 11 | Raisins | 1/2 | Cup |
| 12 | All-purpose flour | 2 | |
| 13 | Salt and pepper | To taste | |
| 14 | Lemon juice | 1 | Tablespoon |
| 15 | White sugar | 1 | Tablespoon |
---
Recipe Details
This is an old Polish recipe that was used at Easter time. This recipe is traditionally served with home made noodles. If desired the fruit can be removed, leaving broth to serve with noodle. If you do not know where to purchase a duck, contact a local farmer or butcher. If you prepare your own poultry be sure to add 1/2 cup vinegar to duck blood to prevent coagulation.
---
Cooking Instructions
---
Garnishing Instructions
Not Available.
---
Serving Instructions
---