Crispy Tempura Battered Shrimp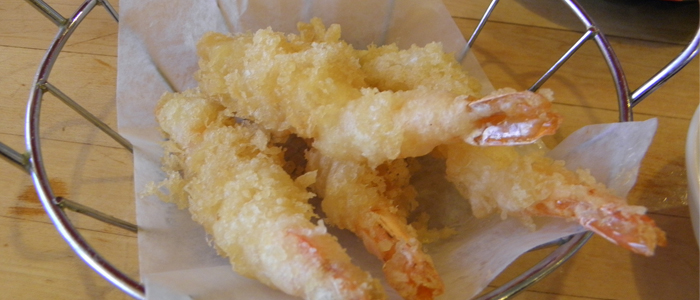 ---
| | | |
| --- | --- | --- |
| Cuisine | : | Chinese |
| Calories | : | 39 |
| Type | : | Non Vegetarian |
| | | |
| --- | --- | --- |
| Serving Size | : | 4 to 6 |
| Course | : | Appetizer |
| Preparation Time | : | 30 Min |
---
INGREDIENTS
| No | Ingredient | Quantity | Measure Type |
| --- | --- | --- | --- |
| 1 | Large shrimp | 2 | Pound |
| 2 | Vegetable oil | | |
| 3 | All-purpose flour | 3 | Cup |
| 4 | Water | 2 | Cup |
| 5 | Egg | 1 | |
---
Recipe Details
Tempura batter is made with flour, and it can be all-purpose, cornstarch, club soda, and I like to put in some fresh herbs and sesame seeds. The veggies and shrimp should be lightly battered.
---
Cooking Instructions
In a deep-fryer or large Dutch oven, pour oil to a depth of 4-inches. Heat over medium heat until a pea-size drop of batter floats but does not swell, about 350 degrees F.
In a medium bowl, combine 2 cups of flour, the water, and the egg. Whisk lightly until ingredients are combined (batter will be slightly lumpy). In a shallow dish, pour remaining flour. Dredge shrimp in flour and then dip into the batter. Fry in batches for 2 to 3 minutes per batch, turning to brown on all sides.
Cook's Note: When placing shrimp into oil, hold by tail and allow to fan out before starting to fry.
Remove from oil and drain on a cooling rack over a baking sheet.
---
Garnishing Instructions
Not Available.
---
Serving Instructions
Serve hot with t
empura
sauce.
---
Related Recipes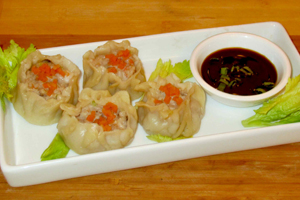 Shrimp and Ginger Siu Mai Dump..
---
| | | |
| --- | --- | --- |
| Type | :&nbsp&nbsp | Non Vegetarian |
| Calories | :&nbsp&nbsp | 60 |
| Cuisine | :&nbsp&nbsp | Chinese |
| Course | :&nbsp&nbsp | Appetizer |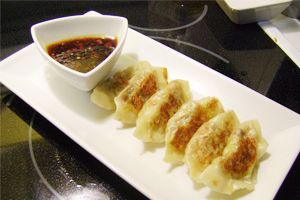 Pot Stickers (Chinese Dumpling..
---
| | | |
| --- | --- | --- |
| Type | :&nbsp&nbsp | Non Vegetarian |
| Calories | :&nbsp&nbsp | 411 |
| Cuisine | :&nbsp&nbsp | Chinese |
| Course | :&nbsp&nbsp | Appetizer |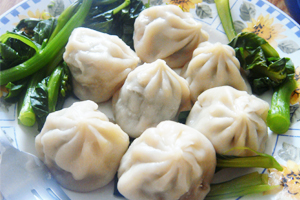 Chinese Pork Dumplings
---
| | | |
| --- | --- | --- |
| Type | :&nbsp&nbsp | Non Vegetarian |
| Calories | :&nbsp&nbsp | 540 |
| Cuisine | :&nbsp&nbsp | Chinese |
| Course | :&nbsp&nbsp | Appetizer |