Chole Tikki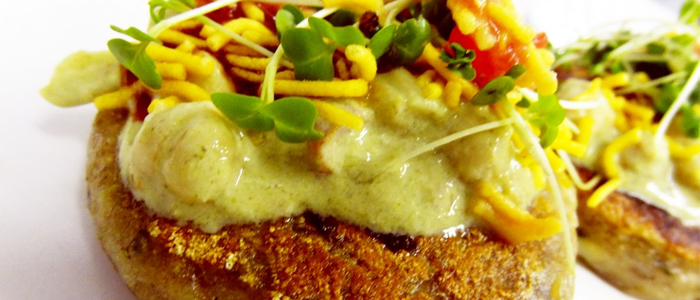 ---
| | | |
| --- | --- | --- |
| Cuisine | : | Indian |
| Calories | : | 400 |
| Type | : | Vegetarian |
| | | |
| --- | --- | --- |
| Serving Size | : | 4 |
| Course | : | Appetizer |
| Preparation Time | : | 30 Min |
---
INGREDIENTS
| No | Ingredient | Quantity | Measure Type |
| --- | --- | --- | --- |
| 1 | Potato | 3 | |
| 2 | Coriander | 1 | Tablespoon |
| 3 | Salt | 1 | Teaspoon |
| 4 | Lemon juice | 1 | Teaspoon |
| 5 | Oil | | |
| 6 | Yoghurt | 1/4 | Cup |
| 7 | Chick Pea ( Soaked) (KABULI CHANA) | 1 | Cup |
| 8 | Ginger-garlic paste | 2 | Tablespoon |
| 9 | Green chiliy | 2 | |
| 10 | Hari chutney | 2 | Tablespoon |
| 11 | Tamarind paste | 2 | Teaspoon |
---
Recipe Details
Chole tikki
is one of the most common mouth-watering street foods. It is a kind of Chaat.
---
Cooking Instructions
After potatoes are cool, peel the skin off and mash the potatoes.
Drain the water out of the chickpeas and dry the chickpeas, make sure no water is present in chickpeas.
Mash the chickpeas coarsely; Do not make smooth paste..
Mix all the ingredients together; add salt as per taste.
Apply little oil on your hand, divide the mixture into 8 to 10 equal portions.
Make them into the shape of patties keeping them about a half inch thick.
Heat the oil in a flat bottom saucepan on medium high heat, place the tikkis in the pan and shallow fry the Tikkis on both sides until both sides are golden brown.
---
Garnishing Instructions
Not available.
---
Serving Instructions
Serve Tikki hot. Drizzle some yogurt, tamarind chutney and hari chutney over the
Tikki.
---
Related Recipes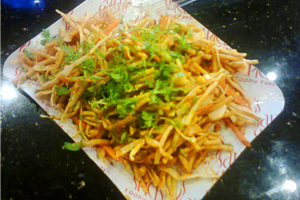 Noodle Bhel
---
| | | |
| --- | --- | --- |
| Type | :&nbsp&nbsp | Vegetarian |
| Calories | :&nbsp&nbsp | 73 |
| Cuisine | :&nbsp&nbsp | Indian |
| Course | :&nbsp&nbsp | Appetizer |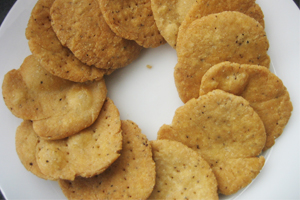 Mathri (Materi)
---
| | | |
| --- | --- | --- |
| Type | :&nbsp&nbsp | Vegetarian |
| Calories | :&nbsp&nbsp | 30 |
| Cuisine | :&nbsp&nbsp | Indian |
| Course | :&nbsp&nbsp | Appetizer |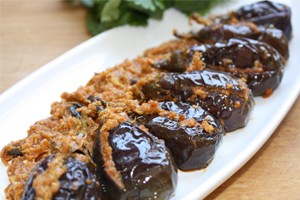 Stuffed Brinjal
---
| | | |
| --- | --- | --- |
| Type | :&nbsp&nbsp | Vegetarian |
| Calories | :&nbsp&nbsp | 163 |
| Cuisine | :&nbsp&nbsp | Indian |
| Course | :&nbsp&nbsp | Appetizer |