Chilly pepper mutton fry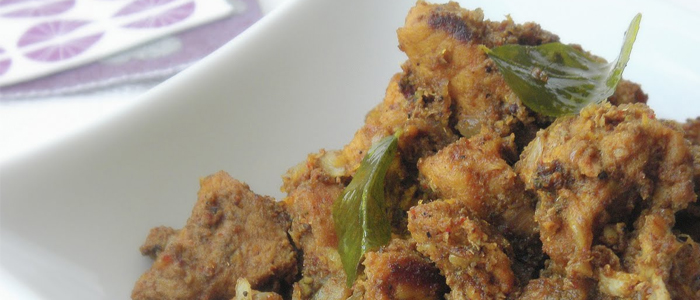 ---
| | | |
| --- | --- | --- |
| Cuisine | : | Indian |
| Calories | : | 100 |
| Type | : | Non Vegetarian |
| | | |
| --- | --- | --- |
| Serving Size | : | 2 |
| Course | : | Appetizer |
| Preparation Time | : | 90 Min |
---
INGREDIENTS
| No | Ingredient | Quantity | Measure Type |
| --- | --- | --- | --- |
| 1 | Mutton | 250 | Gms |
| 2 | Pepper | 1 | Tablespoon |
| 3 | Clove | 4 | |
| 4 | Dalchini | 1 | |
| 5 | Onion | 1 | |
| 6 | Coriander leaves | 1 | Bunch |
| 7 | Onion | paste (1) | |
| 8 | Turmeric powder | 1 | Teaspoon |
| 9 | Ground pepper | 2 | Teaspoon |
| 10 | Salt | to taste | |
| 11 | Garlic | 4 | |
| 12 | Ginger | 1 | |
| 13 | Golden raisins | 1 | |
| 14 | Tomato | 1 | |
---
Recipe Details
Chillly pepper Mutton Fry
with a rich aroma of coconut and curry leaves.
---
Cooking Instructions
Heat oil in cooker, add onion paste made up with 1 onion, stir it until it becomes brown. then add mutton pieces, 1 Tsp turmeric salt to taste, 1 tomato cut into small pieces. close the lid & pressure cook till it boils fully.
Take a kadai, heat 1 tsp of oil, add chopped long sliced onions ,20 green chilles long slits, fry it for 2 mins,

Add ground paste & again fry it for 2 mins, add boiled mutton to it mix it well
Then add freshly grounded (Coarse) pepper to it add small cup of water and let it boil for 2 mins
Continue simmering and stirring it until most water evaporates.
---
Garnishing Instructions
Garnish with coriander leaves.
---
Serving Instructions
Serve with Parathas or Roti in main course or as appetizer.
---
Related Recipes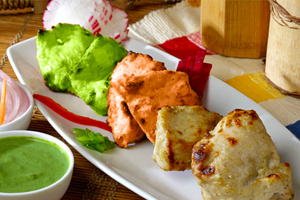 Tiranga kabab
---
| | | |
| --- | --- | --- |
| Type | :&nbsp&nbsp | Non Vegetarian |
| Calories | :&nbsp&nbsp | 158 |
| Cuisine | :&nbsp&nbsp | Indian |
| Course | :&nbsp&nbsp | Appetizer |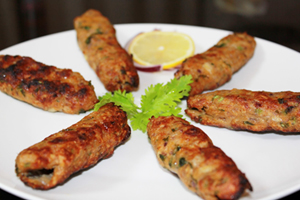 Sheekh Kabab
---
| | | |
| --- | --- | --- |
| Type | :&nbsp&nbsp | Non Vegetarian |
| Calories | :&nbsp&nbsp | 311 |
| Cuisine | :&nbsp&nbsp | Indian |
| Course | :&nbsp&nbsp | Appetizer |