Chick Pea Soup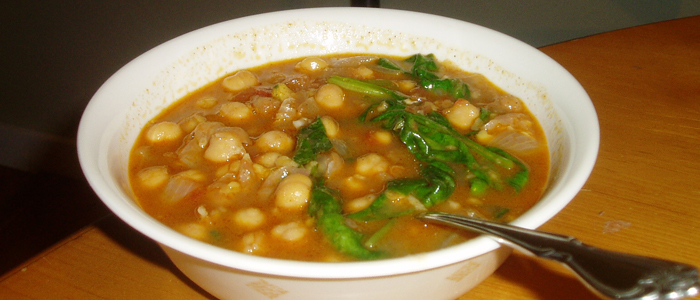 ---
| | | |
| --- | --- | --- |
| Cuisine | : | Indian |
| Calories | : | 955 |
| Type | : | Vegetarian |
| | | |
| --- | --- | --- |
| Serving Size | : | 1 |
| Course | : | Soup |
| Preparation Time | : | 15 Min |
---
INGREDIENTS
| No | Ingredient | Quantity | Measure Type |
| --- | --- | --- | --- |
| 1 | Black salt | 1/2 | Teaspoon |
| 2 | Olive oil | | |
| 3 | Cream | (optional) | |
| 4 | Salt | | |
| 5 | Pepper | | |
| 6 | Chick Pea ( Soaked) (KABULI CHANA) | 1 | Cup |
| 7 | Ginger-garlic paste | 1/4 | Teaspoon |
---
Recipe Details
The
chickpea
is practically a staple in Middle Eastern cooking. ... Another great use for chickpeas is to put them in a soup, as in this fabulous
chickpea
soup that is common to many countries in the Middle East. ... Middle Eastern Food .
This recipe is very fast and easy to make. It is especially nice to have on cold winter days
---
Cooking Instructions
Boil the chick pea let it cool

Now take the blender add chick peas , pepper black salt, salt garlic and ginger paste

Blend it till it become smooth

Take the paste into a bowl

Add olive oil from top n fresh cream if not then ok

If u want it as a snack go with papdi tastes really really good.
---
Garnishing Instructions
Garnish with coriander leaves.
---
Serving Instructions
Serve soup, drizzled lightly with extra-virgin olive oil, if desired.
---
Related Recipes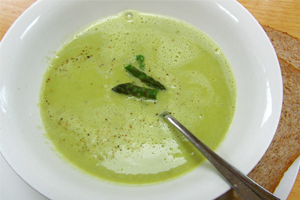 Fresh Asparagus Soup
---
| | | |
| --- | --- | --- |
| Type | :&nbsp&nbsp | Vegetarian |
| Calories | :&nbsp&nbsp | 167 |
| Cuisine | :&nbsp&nbsp | German |
| Course | :&nbsp&nbsp | Soup |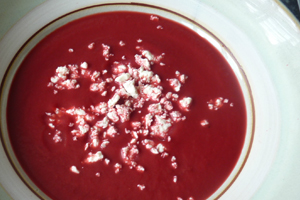 Tomato-Beetroot Soup
---
| | | |
| --- | --- | --- |
| Type | :&nbsp&nbsp | Vegetarian |
| Calories | :&nbsp&nbsp | 151 |
| Cuisine | :&nbsp&nbsp | Indian |
| Course | :&nbsp&nbsp | Soup |