Celery Vadai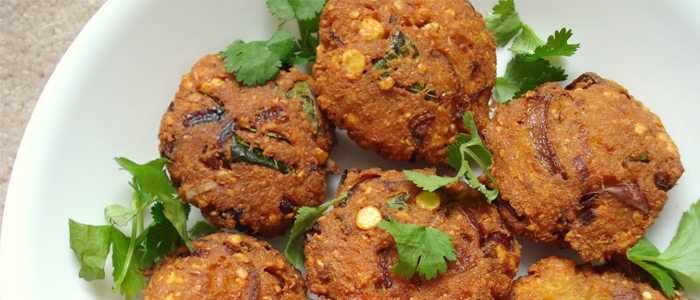 ---
| | | |
| --- | --- | --- |
| Cuisine | : | Indian |
| Calories | : | 20 |
| Type | : | Vegetarian |
| | | |
| --- | --- | --- |
| Serving Size | : | 4 |
| Course | : | Appetizer |
| Preparation Time | : | 75 Min |
---
INGREDIENTS
| No | Ingredient | Quantity | Measure Type |
| --- | --- | --- | --- |
| 1 | Celery leaves | 1 | Cup |
| 2 | Onion | 1/2 | Cup |
| 3 | Curry leaves | | |
| 4 | Coriander leaves | | |
| 5 | Salt | to taste | |
| 6 | Refined oil | 1 | Cup |
| 7 | Urad dal | 1/2 | Cup |
| 8 | Ground spices | 1 & 1/2 | Teaspoon |
---
Recipe Details
This star hotel vadai recipe can be tried at home easily and it is tastier and more nutritious than the Plain Urad dhal vada.U can try this recipe with chopped parsley,basil leaves,broccoli, carrot, cabbage, grated paneer etc.
---
Cooking Instructions
Grind 1/2 cup urad dhal which is soaked for an hour ground into a coarse flour without adding water.
Grind the spices (5 pepper corns,1/2 tsp cumin seeds)
Take a bowl and add the urad dhal flour,chopped celery leaves ,ground spices,chopped onions,chopped coriander leaves,curry leaves and Salt.Mix it well.
Shape the dough round with a hole in the centre.
Heat oil in a non stick frying pan and deep-fry the vadai on both sides,till they turn golden brown.
---
Garnishing Instructions
Not available.
---
Serving Instructions
Serve it hot with tomato ketchup or chutney of your choice.
---
Related Recipes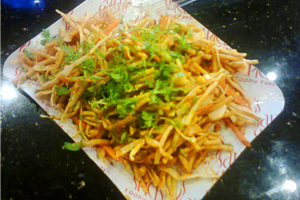 Noodle Bhel
---
| | | |
| --- | --- | --- |
| Type | :&nbsp&nbsp | Vegetarian |
| Calories | :&nbsp&nbsp | 73 |
| Cuisine | :&nbsp&nbsp | Indian |
| Course | :&nbsp&nbsp | Appetizer |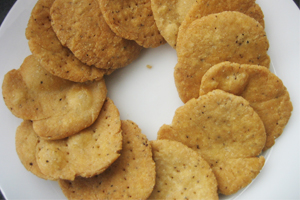 Mathri (Materi)
---
| | | |
| --- | --- | --- |
| Type | :&nbsp&nbsp | Vegetarian |
| Calories | :&nbsp&nbsp | 30 |
| Cuisine | :&nbsp&nbsp | Indian |
| Course | :&nbsp&nbsp | Appetizer |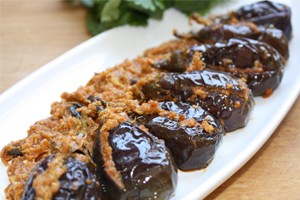 Stuffed Brinjal
---
| | | |
| --- | --- | --- |
| Type | :&nbsp&nbsp | Vegetarian |
| Calories | :&nbsp&nbsp | 163 |
| Cuisine | :&nbsp&nbsp | Indian |
| Course | :&nbsp&nbsp | Appetizer |