Caesar Salad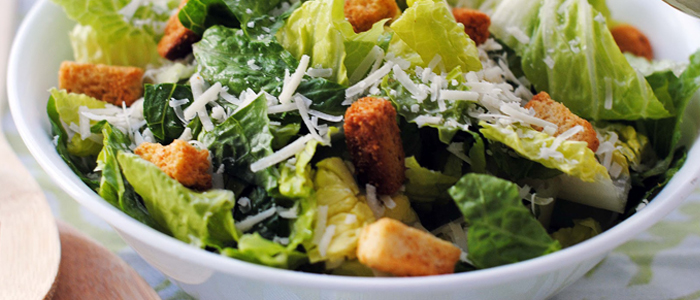 ---
| | | |
| --- | --- | --- |
| Cuisine | : | Italian |
| Calories | : | 183 |
| Type | : | Vegetarian |
| | | |
| --- | --- | --- |
| Serving Size | : | 2 |
| Course | : | Salad |
| Preparation Time | : | 15 Min |
---
INGREDIENTS
| No | Ingredient | Quantity | Measure Type |
| --- | --- | --- | --- |
| 1 | Lettuce | 1 | |
| 2 | Large romaine leaves | 20 | |
| 3 | Salt | 1/4 | Teaspoon |
| 4 | Lemon juice | 1/2 | Teaspoon |
| 5 | Olive oil | 1/4 | Cup |
| 6 | Romano cheese | 1/4 | Cup |
| 7 | Ground pepper | | To taste |
| 8 | Garlic | 1 | Clove |
| 9 | Egg | 1 | |
| 10 | French bread | 1 | Cup |
| 11 | Worcestershire sauce | 1/2 | Teaspoon |
---
Recipe Details
Famous is that the salad is named after its founder, Caesar Cardini. After a mad rush at his restaurant, he had to make due with what was left, and hence Caesar salad was born.
---
Cooking Instructions
Wash and dry lettuce. Wrap and refrigerate.

Warm bread cubes in 275 degree F oven, tossing until hard and dry but not burnt.

Mash garlic into side of large salad bowl.

Ease egg into boiling water and boil exactly 1 minute, then crack into bowl, breaking it up with fork.

Add salt. Add lemon juice, olive oil and Worcestershire. Mix well (makes about 1/2 cup dressing.)

Add lettuce leaves, tossing to co
---
Garnishing Instructions
Garnish with French bread croutons.
---
Serving Instructions
If you want to make a main dish out of this If you want to make a main dish out of this salad, you can marinate some chicken in Bernstein's Italian Dressing before cooking it and then add it to the salad.
---
Related Recipes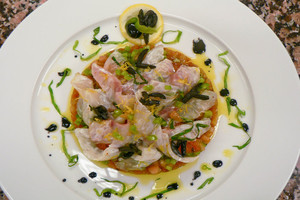 Moroccan Spiced Sea Bass Cevic..
---
| | | |
| --- | --- | --- |
| Type | :&nbsp&nbsp | Vegetarian |
| Calories | :&nbsp&nbsp | 281 |
| Cuisine | :&nbsp&nbsp | Moroccan |
| Course | :&nbsp&nbsp | Salad |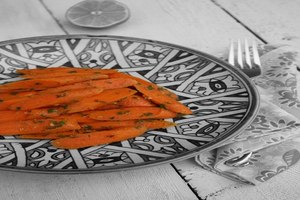 Moroccan Spicy Carrot Salad
---
| | | |
| --- | --- | --- |
| Type | :&nbsp&nbsp | Vegetarian |
| Calories | :&nbsp&nbsp | 122 |
| Cuisine | :&nbsp&nbsp | Moroccan |
| Course | :&nbsp&nbsp | Salad |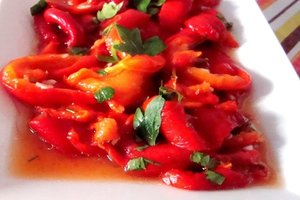 Moroccan Cooked Pepper Salad
---
| | | |
| --- | --- | --- |
| Type | :&nbsp&nbsp | Vegetarian |
| Calories | :&nbsp&nbsp | 200 |
| Cuisine | :&nbsp&nbsp | Moroccan |
| Course | :&nbsp&nbsp | Salad |