Borscht with Meat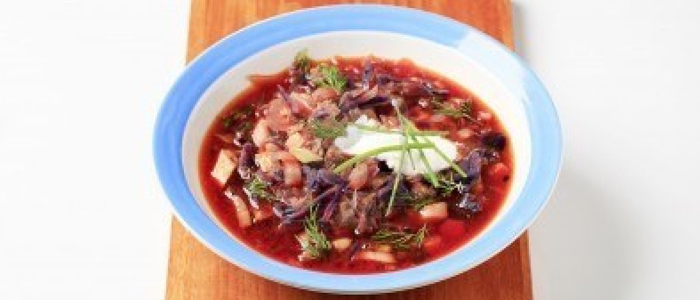 ---
| | | |
| --- | --- | --- |
| Cuisine | : | Russian |
| Calories | : | 482 |
| Type | : | Non Vegetarian |
| | | |
| --- | --- | --- |
| Serving Size | : | 12 |
| Course | : | Main |
| Preparation Time | : | 640 Min |
---
INGREDIENTS
| No | Ingredient | Quantity | Measure Type |
| --- | --- | --- | --- |
| 1 | Beets | 1 & 1/2 | Pound |
| 2 | Red wine vinegar | 2 | Tablespoon |
| 3 | White sugar | 1 | Teaspoon |
| 4 | Beef chuck | 1 | Pound |
| 5 | Water | 2 | Quart |
| 6 | Bacon | 1/2 | Pound |
| 7 | Salt | 1 | Tablespoon |
| 8 | Black peppercorns | 8 | |
| 9 | Parsley | 6 | |
| 10 | Marjoram | 2 | Teaspoon |
| 11 | Dill seed | 2 | Teaspoon |
| 12 | Cabbage | 1 | Pound |
| 13 | Leeks | 2 | |
| 14 | Onion | 1 | Cup |
| 15 | Carrot | 1 | |
| 16 | Polish sausage | 2 | Pound |
| 17 | Dill weed | 2 | Tablespoon |
---
Recipe Details
I like to simmer the beef and bacon for up to 6 hours, then let sit overnight in the broth to cool. Skim the excess fat and cut the meats into bite-size pieces. Re-heat, adding the beets, cabbage, onions, leeks, and sausage. I don't think that the carrots are necessary or add anything to the recipe. I've added several varieties of sausage to give added flavors but the milder Polish sausages seem to go better with the soft and sweet flavors of the beets.
---
Cooking Instructions
Combine 1/2 cup of the beets, the vinegar, and sugar in a small bowl; refrigerate, covered, overnight. Refrigerate remaining beets.
---
Garnishing Instructions
Remove beef, bacon, and sausage; cut into 2-inch pieces. Return meats and reserved beet mixture to Dutch oven. Sprinkle with snipped dill. Pass sour cream.
---
Serving Instructions
---
Related Recipes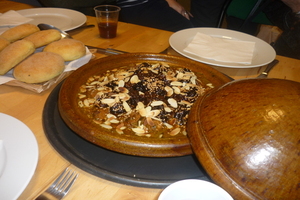 Moroccan Tagine
---
| | | |
| --- | --- | --- |
| Type | :&nbsp&nbsp | Non Vegetarian |
| Calories | :&nbsp&nbsp | 159 |
| Cuisine | :&nbsp&nbsp | Moroccan |
| Course | :&nbsp&nbsp | Main |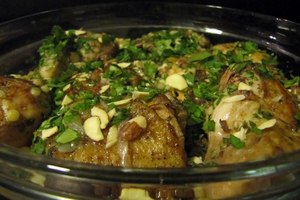 Moroccan Chicken
---
| | | |
| --- | --- | --- |
| Type | :&nbsp&nbsp | Non Vegetarian |
| Calories | :&nbsp&nbsp | 370 |
| Cuisine | :&nbsp&nbsp | Moroccan |
| Course | :&nbsp&nbsp | Main |