Berry Delicious Summer Salad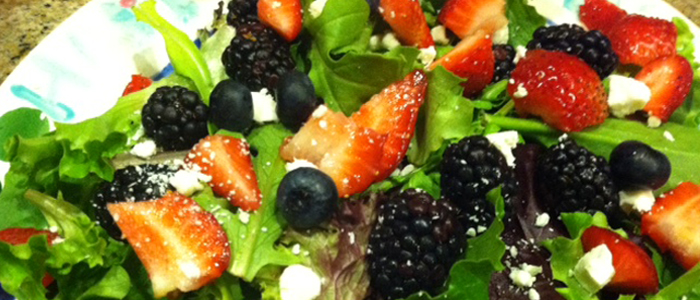 ---
| | | |
| --- | --- | --- |
| Cuisine | : | Greek |
| Calories | : | 129 |
| Type | : | Vegetarian |
| | | |
| --- | --- | --- |
| Serving Size | : | 6 to 8 |
| Course | : | Salad |
| Preparation Time | : | 10 Min |
---
INGREDIENTS
| No | Ingredient | Quantity | Measure Type |
| --- | --- | --- | --- |
| 1 | Mixed vegetables | 8 | Cup |
| 2 | Blueberries | 2 | Cup |
| 3 | Blue cheese | 1/2 | Cup |
| 4 | Walnut | 1/4 | Cup |
| 5 | Vinaigrette | | |
---
Recipe Details
An easy, yummy salad, perfect for any season, with berries, nuts, and greens.
---
Cooking Instructions


Toss together first 4 ingredients; drizzle with desired amount of vinaigrette, tossing gently to coat.
Note: For testing purposes only, we used Newman's Own Light Raspberry & Walnut vinaigrette.
---
Garnishing Instructions
Not available.
---
Serving Instructions
---