Beetroot cutlet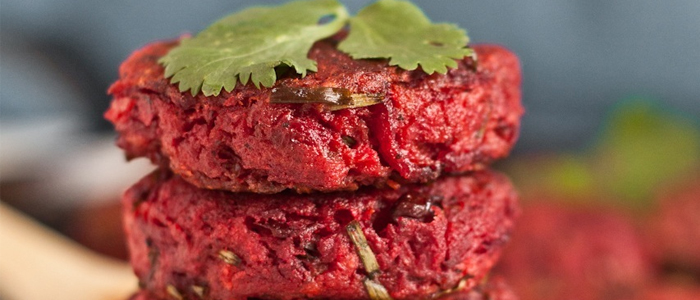 ---
| | | |
| --- | --- | --- |
| Cuisine | : | Indian |
| Calories | : | 150 |
| Type | : | Vegetarian |
| | | |
| --- | --- | --- |
| Serving Size | : | 4 |
| Course | : | Appetizer |
| Preparation Time | : | 35 Min |
---
INGREDIENTS
| No | Ingredient | Quantity | Measure Type |
| --- | --- | --- | --- |
| 1 | Beetroot | 1 | |
| 2 | Potato | 4 | |
| 3 | Green peas | 1/4 | Cup |
| 4 | Rava/soji | 1/2 | Cup |
| 5 | Red chillis | 1 | |
| 6 | Curry leaves | 1 | |
| 7 | Oil | | |
| 8 | Salt | to taste | |
| 9 | Fine bread crumbs | 1/2 | Cup |
| 10 | Green chiliy | 3 | |
| 11 | Garlic | 5 to 6 | |
| 12 | Urad dal | 1 | Tablespoon |
---
Recipe Details
This is a beautiful crimson colored cutlet that is delicious as well. It serves as a great side dish, especially for parties where you might want items to pop in form of color and presentation. Enjoy it by itself with chutney or with parathas.
---
Cooking Instructions
Boil beetroot and when cooled , strain the water completely and blend it in a blender
In a wok , when hot pour oil and put chopped garlic when it becomes soft , put udad oil, then put green chilly , red chilly and curry leaves , when done put the beet , peas and mix well for a minute.
Then put the boiled and mashed potatoes and salt and mix well for 4 to 5 minutes.
take it off the gas and allow it to cool.
Then take out a small amount of mixture and give ur desired shape 4 the cutlet .
Roll it in bread crumbs and shallow fry the cutlets.
---
Garnishing Instructions
Not available
---
Serving Instructions
Serve it with tomato sauce and mint chutney.
---
Related Recipes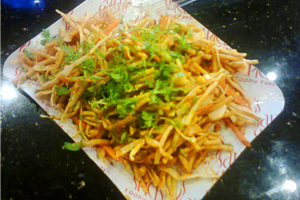 Noodle Bhel
---
| | | |
| --- | --- | --- |
| Type | :&nbsp&nbsp | Vegetarian |
| Calories | :&nbsp&nbsp | 73 |
| Cuisine | :&nbsp&nbsp | Indian |
| Course | :&nbsp&nbsp | Appetizer |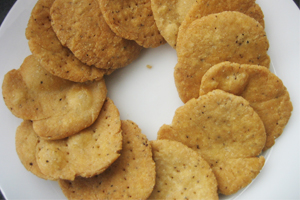 Mathri (Materi)
---
| | | |
| --- | --- | --- |
| Type | :&nbsp&nbsp | Vegetarian |
| Calories | :&nbsp&nbsp | 30 |
| Cuisine | :&nbsp&nbsp | Indian |
| Course | :&nbsp&nbsp | Appetizer |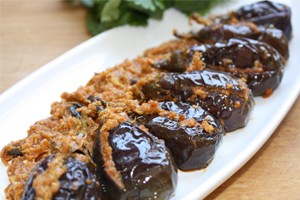 Stuffed Brinjal
---
| | | |
| --- | --- | --- |
| Type | :&nbsp&nbsp | Vegetarian |
| Calories | :&nbsp&nbsp | 163 |
| Cuisine | :&nbsp&nbsp | Indian |
| Course | :&nbsp&nbsp | Appetizer |