Baked Potato with Mushrooms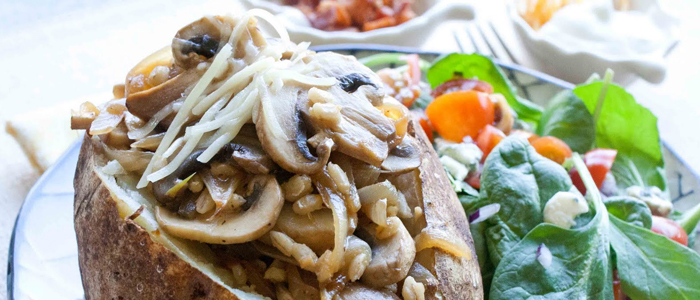 ---
| | | |
| --- | --- | --- |
| Cuisine | : | European |
| Calories | : | 427 |
| Type | : | Vegetarian |
| | | |
| --- | --- | --- |
| Serving Size | : | 1 |
| Course | : | Appetizer |
| Preparation Time | : | 45 Min |
---
INGREDIENTS
| No | Ingredient | Quantity | Measure Type |
| --- | --- | --- | --- |
| 1 | Potato | 1 | |
| 2 | Butter | 1 | Tablespoon |
| 3 | Onion | 1/4 | Cup |
| 4 | Mushrooms | 1/2 | Cup |
| 5 | Salt | | To taste |
| 6 | Yoghurt | 2 | Tablespoon |
---
Recipe Details
A big baked potato topped with sauteed mushrooms and a dollop of yogurt is a filling, easy meal after a long day at the office or before a game. Speed up the cook time by starting in the microwave! I like to serve it with a salad or green beans.
---
Cooking Instructions
---
Garnishing Instructions
Not available.
---
Serving Instructions
Serve potato topped with the mushrooms and yogurt.
---