Bacon Potato Salad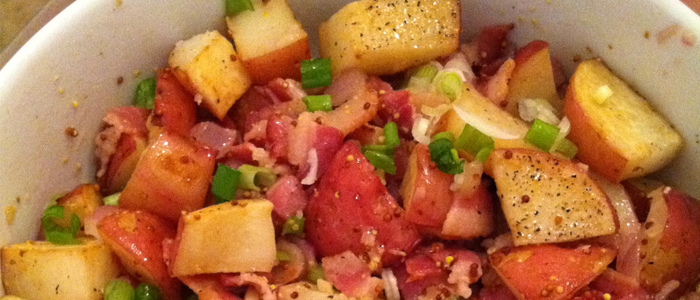 ---
| | | |
| --- | --- | --- |
| Cuisine | : | German |
| Calories | : | 320 |
| Type | : | Non Vegetarian |
| | | |
| --- | --- | --- |
| Serving Size | : | 6 |
| Course | : | Salad |
| Preparation Time | : | 60 Min |
---
INGREDIENTS
| No | Ingredient | Quantity | Measure Type |
| --- | --- | --- | --- |
| 1 | Potato | 3 | Pound |
| 2 | Bacon | 1/2 | Pound |
| 3 | Green onion | 6 | |
| 4 | Celery | 2 | |
| 5 | Black pepper | 2 | Tablespoon |
| 6 | Salt | 3/4 | Teaspoon |
| 7 | Pepper | 1/4 | Teaspoon |
| 8 | Mayonnaise | 1/2 | Cup |
| 9 | Sour cream | 1/2 | Cup |
| 10 | Paprika | | |
| 11 | Celery | | |
---
Recipe Details
This is a creamy potato salad made with bacon that's great the second day too.
---
Cooking Instructions


Cook potatoes in boiling water to cover in a Dutch oven over medium heat 15 to 18 minutes or until tender. Drain and let cool slightly.
Place potatoes in a large bowl. Add bacon, chopped green onions, and next 4 ingredients. Stir together mayonnaise and sour cream until blended. Pour over potato mixture, tossing gently to coat. Cover and chill at least 1 hour. Garnish, if desired.
Round white potatoes work well in this recipe. To lighten, use light mayonnaise and sour cream. To make ahead, peel and cut potatoes the night before, cover with water, and chill.
---
Garnishing Instructions
Not available .
---
Serving Instructions
Refrigerate until ready to serve.
---