moongdal ki kadhi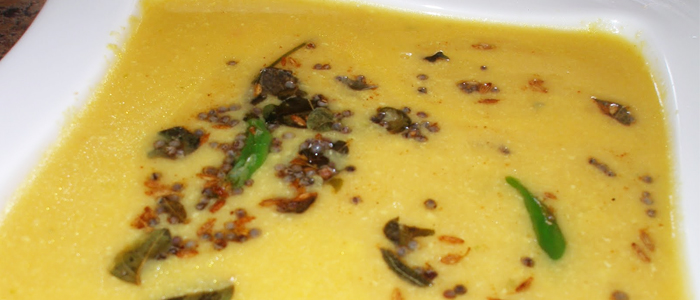 ---
| | | |
| --- | --- | --- |
| Cuisine | : | Indian |
| Calories | : | 212 |
| Type | : | Vegetarian |
| | | |
| --- | --- | --- |
| Serving Size | : | 4 |
| Course | : | Main |
| Preparation Time | : | 40 Min |
---
INGREDIENTS
| No | Ingredient | Quantity | Measure Type |
| --- | --- | --- | --- |
| 1 | Cauliflower | | |
| 2 | Carrot | | |
| 3 | Peas | | |
| 4 | Beans | | |
| 5 | Jeera | 1/2 | Teaspoon |
| 6 | Salt | to taste | |
| 7 | Onion | 1 | |
| 8 | Coriander leaves | | |
| 9 | Buttermilk | 1 | Ltr |
| 10 | Moong dal paste | 1/2 | Cup |
| 11 | Garlic paste | 1/2 | Tablespoon |
| 12 | Ginger | 1/2 | Tablespoon |
| 13 | Green chiliy | 1 | Tablespoon |
| 14 | Tomato | 1 | |
---
Recipe Details
Moong Dal Kadi is pretty different Kadhi recipe. In india Normal Kadi (Made only from Besan / Gram Flour) which is very popular and people eat with rice, but this Monng Dal Kadhi is made with Moong dal and Yogurt, it taste very delicious and its healthy.
---
Cooking Instructions
In a heavy bottom degchi mix dal paste and buttermilk. put on gas for cooking. stir continuously for 10 min.

Cook kadhi for 1/2 hr on low flame.

Now mix veggies. cook for another 15 minutes. prepare tadka with rest of the ingredients.

Mix tadka .
---
Garnishing Instructions
Garnish with coriander leaves.
---
Serving Instructions
Serve with steamed rice or u can have it with roti.
---
Related Recipes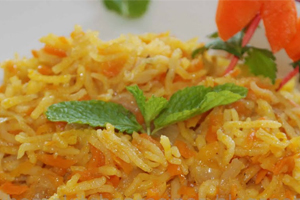 Carrot Rice
---
| | | |
| --- | --- | --- |
| Type | :&nbsp&nbsp | Vegetarian |
| Calories | :&nbsp&nbsp | 179 |
| Cuisine | :&nbsp&nbsp | Indian |
| Course | :&nbsp&nbsp | Main |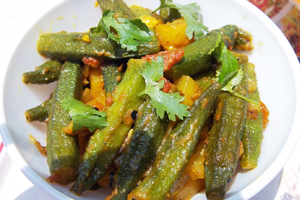 Indian Style Okra
---
| | | |
| --- | --- | --- |
| Type | :&nbsp&nbsp | Vegetarian |
| Calories | :&nbsp&nbsp | 126 |
| Cuisine | :&nbsp&nbsp | Indian |
| Course | :&nbsp&nbsp | Main |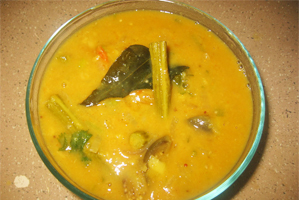 Sambar
---
| | | |
| --- | --- | --- |
| Type | :&nbsp&nbsp | Vegetarian |
| Calories | :&nbsp&nbsp | 306 |
| Cuisine | :&nbsp&nbsp | Indian |
| Course | :&nbsp&nbsp | Main |