Zabaglione With Berries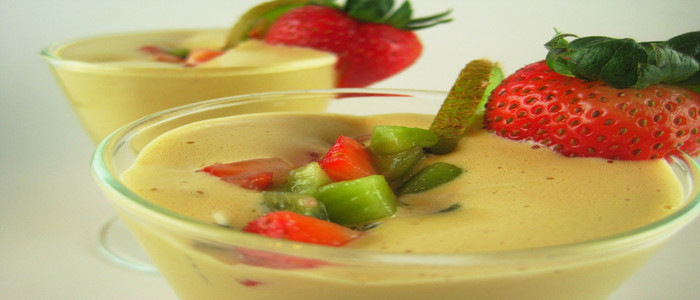 ---
| | | |
| --- | --- | --- |
| Cuisine | : | Italian |
| Calories | : | 230 |
| Type | : | Non Vegetarian |
| | | |
| --- | --- | --- |
| Serving Size | : | 4 |
| Course | : | Dessert |
| Preparation Time | : | 20 Min |
---
INGREDIENTS
| No | Ingredient | Quantity | Measure Type |
| --- | --- | --- | --- |
| 1 | Egg yolks | 8 | Piece |
| 2 | Sugar | 1/2 | Cup |
| 3 | Marsala wine | 1 | Cup |
| 4 | raspberries | 1/2 | Pint |
| 5 | Blueberries | 1/2 | Pint |
---
Recipe Details
Zabaglione is a famous Italian custard dessert that is usually served with sliced fresh fruit or berries.
---
Cooking Instructions
In a copper pan with a rounded bottom, whisk together the yolks and sugar. Set the pan over simmering (not boiling) water or directly over a low flame, if you dare, and continue to whisk while you cook it until thick and pale yellow. Add the wine gradually as you whisk and continue to cook until light and fluffy, about 4 to 6 minutes. Divide the berries among 4 stemmed glasses and pour the hot zabaglione over them.
---
Garnishing Instructions
---
Serving Instructions
Zabaglione may be served warm or at room temperature.
---