White Bean and Lamb Soup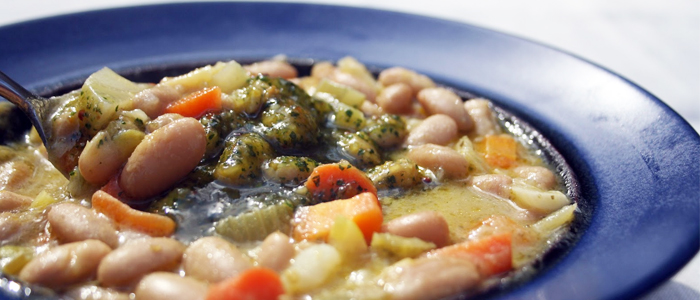 ---
| | | |
| --- | --- | --- |
| Cuisine | : | Middle Eastern |
| Calories | : | 332 |
| Type | : | Non Vegetarian |
| | | |
| --- | --- | --- |
| Serving Size | : | 8 |
| Course | : | Soup |
| Preparation Time | : | 645 Min |
---
INGREDIENTS
| No | Ingredient | Quantity | Measure Type |
| --- | --- | --- | --- |
| 1 | Northern beans | 1/2 | Pound |
| 2 | Onion | 1 | |
| 3 | Olive oil | 3 | Tablespoon |
| 4 | Garlic | 3 | Clove |
| 5 | Carrot | 3 | |
| 6 | Ground lamb | 1 & 1/4 | Pound |
| 7 | Celery | 3 | |
| 8 | Roma tomatoes | 1 & 1/2 | Cup |
| 9 | Parsley | 1/4 | Cup |
| 10 | Thyme leaves | 1 | Teaspoon |
| 11 | Oregano | 1/2 | Teaspoon |
| 12 | Black pepper | | To taste |
| 13 | Salt | | To taste |
| 14 | Chicken broth | 6 | Cup |
| 15 | Spinach | 1/2 | Pound |
| 16 | Feta cheese | 4 | Ounces |
---
Recipe Details
Wonderful soup for a chilly Sunday dinner. It is a complete meal in one bowl. The soup is topped with wilted baby spinach and feta cheese .
---
Cooking Instructions
---
Garnishing Instructions
Not available
---
Serving Instructions
Top each serving of soup with wilted spinach and crumbled feta cheese.
---