Vegetarian Tortilla Soup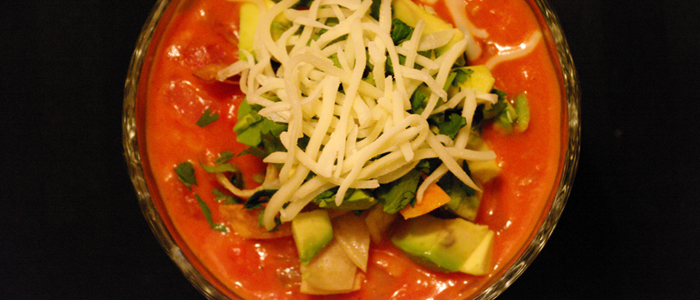 ---
| | | |
| --- | --- | --- |
| Cuisine | : | Mexican |
| Calories | : | 315 |
| Type | : | Vegetarian |
| | | |
| --- | --- | --- |
| Serving Size | : | 12 |
| Course | : | Soup |
| Preparation Time | : | 55 Min |
---
INGREDIENTS
| No | Ingredient | Quantity | Measure Type |
| --- | --- | --- | --- |
| 1 | Canola oil | 2 | Tablespoon |
| 2 | Onion | 1 | Pound |
| 3 | Pepper | 2 | Teaspoon |
| 4 | Garlic | 2 | Clove |
| 5 | Ground cumin | 3 | Tablespoon |
| 6 | Tomato | 28 | Ounces |
| 7 | Green chile peppers | 4 | Ounces |
| 8 | Vegetable broth | 14 | Ounces |
| 9 | Salt and pepper | | To taste |
| 10 | Whole kernel corn | 11 | Ounces |
| 11 | Tortilla chips | 12 | Ounces |
| 12 | Paneer | 1 | Cup |
| 13 | Avocado | 1 | |
---
Recipe Details
People have offered me their firstborn children for this recipe; it is simple, easy to make, and delicious. It's also vegan if you don't add the cheese at the end. If you prefer a more spicy soup, add a dash or two of hot sauce before serving.
---
Cooking Instructions
Heat the oil in a large pot over medium heat. Stir in the pepper and onion stir fry mix, garlic, and cumin, and cook 5 minutes, until vegetables are tender. Mix in the tomatoes and chile peppers. Pour in the broth, and season with salt and pepper. Bring to a boil, reduce heat to low, and simmer 30 minutes.

Mix corn into the soup, and continue cooking 5 minutes.
---
Garnishing Instructions
Top with cheese and avocado.
---
Serving Instructions
Serve in bowls over equal amounts of tortilla chips.
---