Tofu 65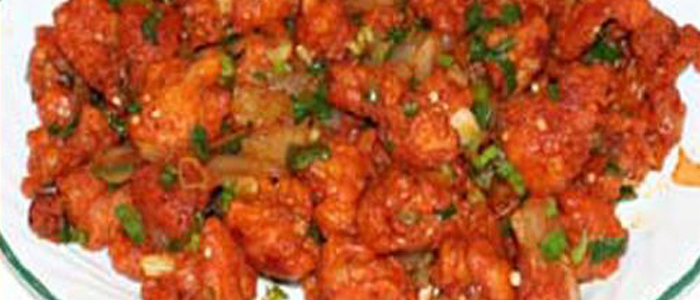 ---
| | | |
| --- | --- | --- |
| Cuisine | : | Indian |
| Calories | : | 183 |
| Type | : | Vegetarian |
| | | |
| --- | --- | --- |
| Serving Size | : | 6 |
| Course | : | Main |
| Preparation Time | : | 45 Min |
---
INGREDIENTS
| No | Ingredient | Quantity | Measure Type |
| --- | --- | --- | --- |
| 1 | Corn flour | 4 | Tablespoon |
| 2 | Flour | 3 | Tablespoon |
| 3 | Red chilli powder | 1 | Teaspoon |
| 4 | Salt | 1 | Teaspoon |
| 5 | Oil | 4 | Tablespoon |
| 6 | Red chillis | 5 to 6 | |
| 7 | Curry leaves | | |
| 8 | Black pepper powder | 1/4 | Teaspoon |
| 9 | Garam masala powder | 1 | Tablespoon |
| 10 | Curd | 1 & 1/2 | Cup |
| 11 | Oil | 3 to 4 | Tablespoon |
| 12 | Cilantro | 2 | Tablespoon |
| 13 | Ginger-garlic paste | 2 | Tablespoon |
| 14 | Ginger | 1 | Tablespoon |
| 15 | Chilly sauce | 3 | Tablespoon |
| 16 | Sugar | 1 | Tablespoon |
| 17 | Red Food Color | 2 to 3 | Drops |
| 18 | Soy sauce | 1 | Tablespoon |
---
Recipe Details
This is my version of 65 recipe u are free to add or exempt wat u like but A pure vegan dish they will keep licking their fingers off.
---
Cooking Instructions
Marinade the tofu in it's coating ingrediants and set aside.
After 20 min, heat oil and deep frying the tofu till nice and golden and starin off on a kitchen towel.
combine the stared item and make a curd mix( set aside).
In a Karhai heat 3-4 tbsp oil , fry the red chili, curry leaves and ginger till light golden in colour.
Add in the curd mix and fry till you get a nice and shiny gravy with little oil floating at the top.
Add in the fried Tofu and toss 3-4 times till all gets coated well.
Sprinkle the cilantro , bring out on a serving platter.
---
Garnishing Instructions
Not available.
---
Serving Instructions
---
Related Recipes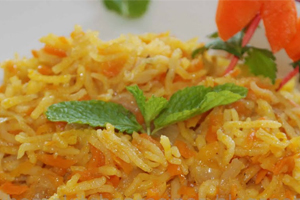 Carrot Rice
---
| | | |
| --- | --- | --- |
| Type | :&nbsp&nbsp | Vegetarian |
| Calories | :&nbsp&nbsp | 179 |
| Cuisine | :&nbsp&nbsp | Indian |
| Course | :&nbsp&nbsp | Main |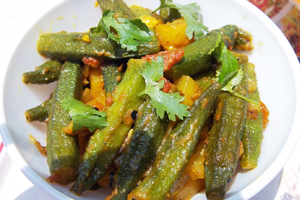 Indian Style Okra
---
| | | |
| --- | --- | --- |
| Type | :&nbsp&nbsp | Vegetarian |
| Calories | :&nbsp&nbsp | 126 |
| Cuisine | :&nbsp&nbsp | Indian |
| Course | :&nbsp&nbsp | Main |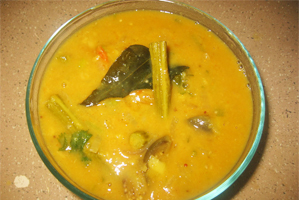 Sambar
---
| | | |
| --- | --- | --- |
| Type | :&nbsp&nbsp | Vegetarian |
| Calories | :&nbsp&nbsp | 306 |
| Cuisine | :&nbsp&nbsp | Indian |
| Course | :&nbsp&nbsp | Main |