Tiranga kabab
---
| | | |
| --- | --- | --- |
| Cuisine | : | Indian |
| Calories | : | 158 |
| Type | : | Non Vegetarian |
| | | |
| --- | --- | --- |
| Serving Size | : | 4 |
| Course | : | Appetizer |
| Preparation Time | : | 150 Min |
---
INGREDIENTS
| No | Ingredient | Quantity | Measure Type |
| --- | --- | --- | --- |
| 1 | Chicken boneless | 600 | Gms |
| 2 | Yoghurt | 1 | Cup |
| 3 | Garlic paste | 1 | Tablespoon |
| 4 | Green chilli paste | 1 | Tablespoon |
| 5 | Lime juice | 1 | Tablespoon |
| 6 | Red chilli powder | 1 | Tablespoon |
| 7 | Red Food Color | 1 | Pinch |
| 8 | Cream | 1/2 | Cup |
| 9 | Cashew nuts | 1 | Tablespoon |
| 10 | Coriander paste | 1/2 | Tablespoon |
| 11 | Green colour | 1 | Pinch |
| 12 | Butter | 2 | Tablespoon |
| 13 | Salt | | To taste |
---
Recipe Details
chicken pieces cooked like indian tricolor as a kabab.
---
Cooking Instructions
Divide the chicken pieces into three bowls,add yoghurt,ginger,green chilly paste,lime juice and salt in all the three bowls.

In the first bowl add add red chilly powder and red colour.

In the second bowl add cream and cashew nut powder.

In the third bowl add coriander paste and green colour.Mix well and keep aside to marinate for 2 hours.

Put chicken on the skewers and cook on a moderately hot tandoor or a preheated oven on 200° Celsius until it is cooked.

Apply a little butter for basting and cook for another 2 mins.
---
Garnishing Instructions
Not available
---
Serving Instructions
---
Related Recipes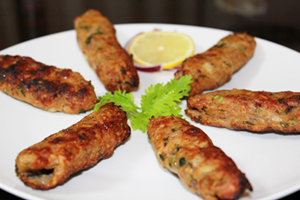 Sheekh Kabab
---
| | | |
| --- | --- | --- |
| Type | :&nbsp&nbsp | Non Vegetarian |
| Calories | :&nbsp&nbsp | 311 |
| Cuisine | :&nbsp&nbsp | Indian |
| Course | :&nbsp&nbsp | Appetizer |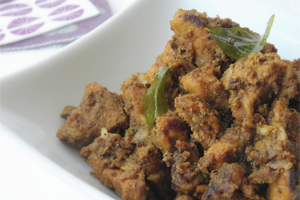 Chilly pepper mutton fry
---
| | | |
| --- | --- | --- |
| Type | :&nbsp&nbsp | Non Vegetarian |
| Calories | :&nbsp&nbsp | 100 |
| Cuisine | :&nbsp&nbsp | Indian |
| Course | :&nbsp&nbsp | Appetizer |