Stuffed idli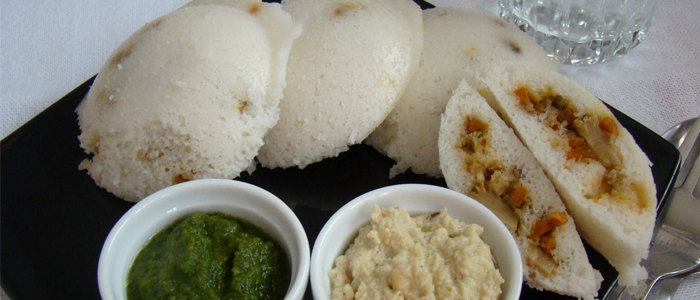 ---
| | | |
| --- | --- | --- |
| Cuisine | : | Indian |
| Calories | : | 155 |
| Type | : | Vegetarian |
| | | |
| --- | --- | --- |
| Serving Size | : | 6 |
| Course | : | Appetizer |
| Preparation Time | : | 80 Min |
---
INGREDIENTS
| No | Ingredient | Quantity | Measure Type |
| --- | --- | --- | --- |
| 1 | Rava/soji | 2 | Cup |
| 2 | Curd | 1 | Cup |
| 3 | Salt | 1/2 | Teaspoon |
| 4 | Curry leaves | 10 to 12 | |
| 5 | Oil | 2 | Teaspoon |
| 6 | Peas | 1 | Cup |
| 7 | Salt | 1/2 | Teaspoon |
| 8 | Red chilli powder | 1/2 | Teaspoon |
| 9 | Coriander powder | 1/2 | Teaspoon |
| 10 | Turmeric powder | | |
| 11 | Oil | 1 | Teaspoon |
| 12 | Mustard seeds | 1 | Teaspoon |
---
Recipe Details
Delicious,healthy and tasty breakfast which is easy to make.
---
Cooking Instructions


Mix salt and dahi in suji and make a thick batter using water.
Cover it and leave for 1 hour.
Boil alu, peel and mash properly.
Boil matar also and mash them.
Heat oil in a pan and add alu, matar, namak, lal mirch, haldi and dhania powder and fry for a minute.
Now heat oil again and crackle rai, curry leaves in it.
Add this to the idli mixture.
Now grease idli mould with oil and put a little of the above mixture in it.
Then put alu mixture.
Then again put idli mixture to cover the stuffing.
Boil 2 glass water in a pressure cooker and place idli mould in it.
Cover it and let it whistle.
Cook at high flame for 10 minutes and then remove it from the flame.
Open it and take out idli mould after 2 minutes.
---
Garnishing Instructions
Not available
---
Serving Instructions
Serve hot idlis with coconut chutney and sambhar.
---
Related Recipes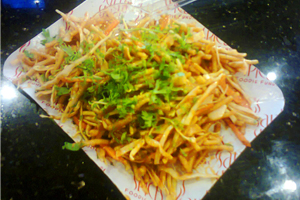 Noodle Bhel
---
| | | |
| --- | --- | --- |
| Type | :&nbsp&nbsp | Vegetarian |
| Calories | :&nbsp&nbsp | 73 |
| Cuisine | :&nbsp&nbsp | Indian |
| Course | :&nbsp&nbsp | Appetizer |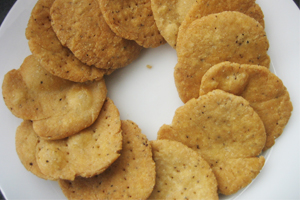 Mathri (Materi)
---
| | | |
| --- | --- | --- |
| Type | :&nbsp&nbsp | Vegetarian |
| Calories | :&nbsp&nbsp | 30 |
| Cuisine | :&nbsp&nbsp | Indian |
| Course | :&nbsp&nbsp | Appetizer |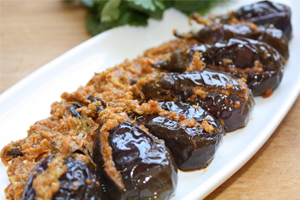 Stuffed Brinjal
---
| | | |
| --- | --- | --- |
| Type | :&nbsp&nbsp | Vegetarian |
| Calories | :&nbsp&nbsp | 163 |
| Cuisine | :&nbsp&nbsp | Indian |
| Course | :&nbsp&nbsp | Appetizer |