Spaghetti Carbonara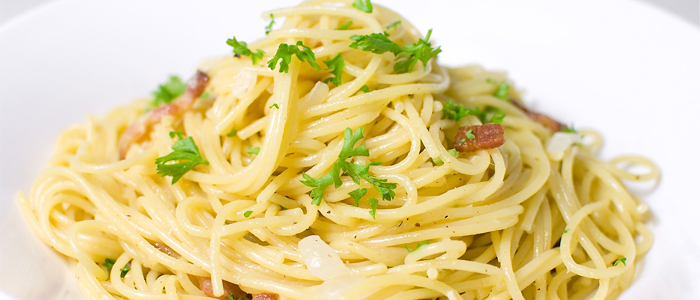 ---
| | | |
| --- | --- | --- |
| Cuisine | : | Italian |
| Calories | : | 444 |
| Type | : | Non Vegetarian |
| | | |
| --- | --- | --- |
| Serving Size | : | 8 |
| Course | : | Main |
| Preparation Time | : | 40 Min |
---
INGREDIENTS
| No | Ingredient | Quantity | Measure Type |
| --- | --- | --- | --- |
| 1 | Spaghetti | 1 | Pound |
| 2 | Olive oil | 2 | Tablespoon |
| 3 | Bacon | 8 | Slices |
| 4 | Onion | 1 | |
| 5 | Garlic | 1 | Clove |
| 6 | Egg | 4 | |
| 7 | Parmesan cheese | 2 & 1/2 | Cup |
| 8 | Salt and ground black pepper | | To taste |
| 9 | Parsley | 2 | Tablespoon |
---
Recipe Details
A super rich, classic 'bacon and egg' spaghetti dish. Great to serve for company. This recipe also makes an unusual brunch offering.
---
Cooking Instructions
In a large pot of boiling salted water, cook spaghetti pasta until al dente. Drain well. Toss with 1 tablespoon of olive oil, and set aside.
---
Garnishing Instructions
Not available .
---
Serving Instructions
Serve immediately with chopped parsley sprinkled on top, and extra Parmesan cheese at table.
---
Related Recipes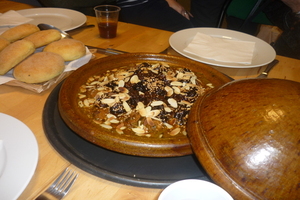 Moroccan Tagine
---
| | | |
| --- | --- | --- |
| Type | :&nbsp&nbsp | Non Vegetarian |
| Calories | :&nbsp&nbsp | 159 |
| Cuisine | :&nbsp&nbsp | Moroccan |
| Course | :&nbsp&nbsp | Main |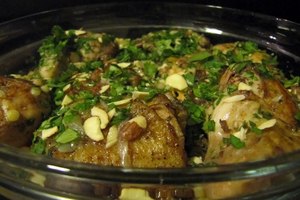 Moroccan Chicken
---
| | | |
| --- | --- | --- |
| Type | :&nbsp&nbsp | Non Vegetarian |
| Calories | :&nbsp&nbsp | 370 |
| Cuisine | :&nbsp&nbsp | Moroccan |
| Course | :&nbsp&nbsp | Main |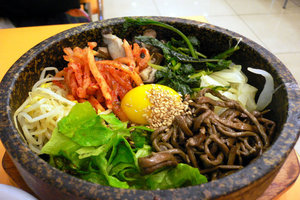 Dol Sot Bi Bim Bap
---
| | | |
| --- | --- | --- |
| Type | :&nbsp&nbsp | Non Vegetarian |
| Calories | :&nbsp&nbsp | 560 |
| Cuisine | :&nbsp&nbsp | Korean |
| Course | :&nbsp&nbsp | Main |