Snert (Split Pea Soup)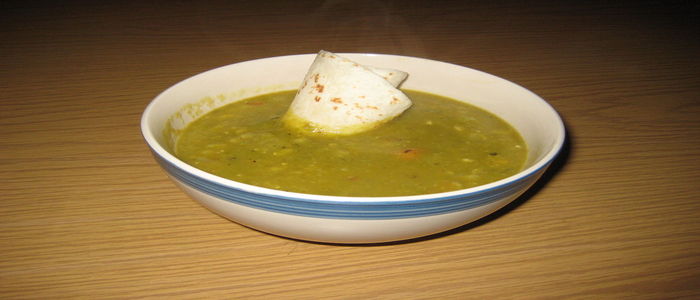 ---
| | | |
| --- | --- | --- |
| Cuisine | : | Dutch |
| Calories | : | 630 |
| Type | : | Non Vegetarian |
| | | |
| --- | --- | --- |
| Serving Size | : | 8 |
| Course | : | Soup |
| Preparation Time | : | 30 Min |
---
INGREDIENTS
| No | Ingredient | Quantity | Measure Type |
| --- | --- | --- | --- |
| 1 | big dried split pea | 14 | Ounces |
| 2 | cerely leaves chopped | 2 | Stalk |
| 3 | Bacon | 3 | Slices |
| 4 | Salt | 1/2 | Teaspoon |
| 5 | Chicken broth | 14.5 | Ounces |
| 6 | ground pepper | 1/2 | Teaspoon |
| 7 | Water | 3 | Cup |
| 8 | Dried thyme | 1/2 | Teaspoon |
| 9 | Potato | 4 | small |
| 10 | Ground nutmeg | 1/2 | Teaspoon |
| 11 | Carrot | 2 | Piece |
| 12 | Ground cloves | 1/4 | Teaspoon |
| 13 | Leeks | 1 | diced |
| 14 | smoked sausage | 1 | Pound |
| 15 | Onions | 1 | large |
---
Recipe Details
Pea soup or
split pea soup
is soup made typically from dried peas, such as the split pea. .... Erwtensoep, also called "
snert
", is the Dutch version of pea soup.
---
Cooking Instructions
---
Garnishing Instructions
Garnished with slices of smoked sausage and chopped celery leaf.
---
Serving Instructions
Serve split pea soup in bowls or soup plates.
---