Shrimp and Ginger Siu Mai Dumplings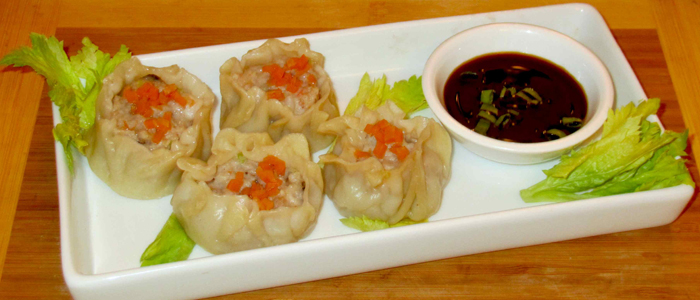 ---
| | | |
| --- | --- | --- |
| Cuisine | : | Chinese |
| Calories | : | 60 |
| Type | : | Non Vegetarian |
| | | |
| --- | --- | --- |
| Serving Size | : | 12 to 15 |
| Course | : | Appetizer |
| Preparation Time | : | 70 Min |
---
INGREDIENTS
| No | Ingredient | Quantity | Measure Type |
| --- | --- | --- | --- |
| 1 | Shrimp | 1 | Pound |
| 2 | Ground pork | 1/2 | Pound |
| 3 | Green onion | 1 | |
| 4 | Garlic | 3 | Clove |
| 5 | Egg | 2 | |
| 6 | Cornstarch | 2 | Teaspoon |
| 7 | Lemon juice | 1/2 | |
| 8 | Soy sauce | 1 | Tablespoon |
| 9 | Salt | 1 | Tablespoon |
| 10 | Black pepper | 1/4 | Teaspoon |
---
Recipe Details
Chinese
Dumplings
-
Siu Mai
are a very popular Chinese
dumpling
served.
---
Cooking Instructions
Special equipment: wok, bamboo steamer
To make the shrimp filling: Pulse all the ingredients in a food processor until partly smooth but not completely pureed. It should have a little texture. Season with salt and pepper.
To assemble dumplings: Hold a wonton wrapper in your hand. Dip a spoon in cold water and then drop 1 tablespoon of the filling onto the center of a wrapper (dipping the spoon in cold water first will make the filling come off easier). Gather the edges of the wrapper up around the filling and squeeze the sides slightly with your fingers. The sides will naturally pleat, leaving the filling slightly exposed. Tap the dumpling on the table so the bottom is flat and it stands upright. Repeat with the remaining wrappers and filling. (You can freeze the leftover filling for 2 or 3 weeks.)
Lightly oil the bottom of a 10-inch bamboo steamer and line it with the whole cabbage leaves. Stand the dumplings in the steamer in a single layer and don't let them touch. You should be able to get 12 siu mai in the steamer at a time. Bring 1 to 2 inches of water to a boil in a pot. Set the bamboo steamer over the pot, then cover it with the bamboo lid. Steam for 10 to 12 minutes or until the filling feels firm and is cooked through.
---
Garnishing Instructions
Not available
---
Serving Instructions
Serve in the steamer basket and garnish with micro arugula and soy sauce.
---
Related Recipes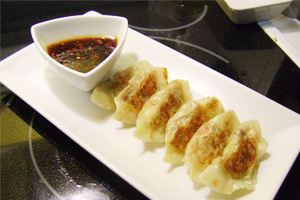 Pot Stickers (Chinese Dumpling..
---
| | | |
| --- | --- | --- |
| Type | :&nbsp&nbsp | Non Vegetarian |
| Calories | :&nbsp&nbsp | 411 |
| Cuisine | :&nbsp&nbsp | Chinese |
| Course | :&nbsp&nbsp | Appetizer |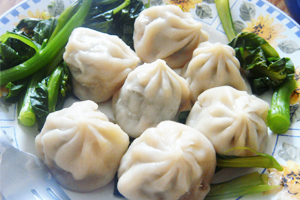 Chinese Pork Dumplings
---
| | | |
| --- | --- | --- |
| Type | :&nbsp&nbsp | Non Vegetarian |
| Calories | :&nbsp&nbsp | 540 |
| Cuisine | :&nbsp&nbsp | Chinese |
| Course | :&nbsp&nbsp | Appetizer |