Sev Puri (Sukha Puri)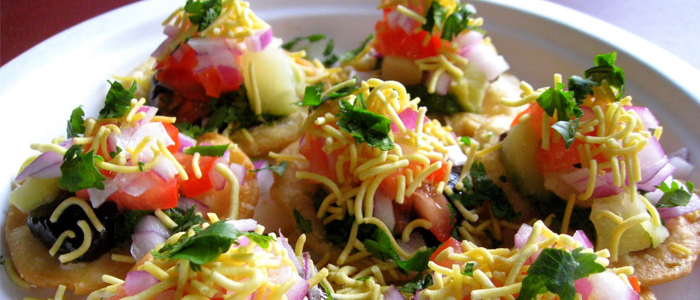 ---
| | | |
| --- | --- | --- |
| Cuisine | : | Indian |
| Calories | : | 245 |
| Type | : | Vegetarian |
| | | |
| --- | --- | --- |
| Serving Size | : | 1 |
| Course | : | Appetizer |
| Preparation Time | : | 30 Min |
---
INGREDIENTS
| No | Ingredient | Quantity | Measure Type |
| --- | --- | --- | --- |
| 1 | Maida | 1 | Tablespoon |
| 2 | Rava/soji | 3/4 | Cup |
| 3 | Ice water | | |
| 4 | Salt | 1/2 | Teaspoon |
| 5 | Oil | 2 | Teaspoon |
| 6 | Potato | 1 (boiled) | |
| 7 | Chat masala | 1 | Teaspoon |
| 8 | Red chilli powder | 1 | Teaspoon |
| 9 | Jeera powder | 1/2 | Teaspoon |
| 10 | Anardhana powder | 1/2 | Teaspoon |
| 11 | Black salt | 1/2 | Teaspoon |
| 12 | Onion | 1 | Tablespoon |
| 13 | Coriander leaves | 1 | Tablespoon |
| 14 | Salt | to taste | |
| 15 | Soda | 1 | Pinch |
| 16 | Plain sev | 3 | Tablespoon |
| 17 | Green chutney | | |
---
Recipe Details
Sev puri is an Indian snack and a type of chaat. It is a speciality that originates from Mumbai.
---
Cooking Instructions
Arrange the puris on a plate make a hole in each puri in the centre.

Fill with a few chopped boiled potato cubes.

Add about 1/4 tsp of tamarind and green chutneys in each.

Sprinkle cumin powder, salt, red chilli powder.

Sprinkle finely chopped onions.

Then generously sprinkle sev all over the puris.

Garnish with finely chopped coriander.

Serve fresh..
---
Garnishing Instructions
Garnish with sev and coriander.
---
Serving Instructions
---
Related Recipes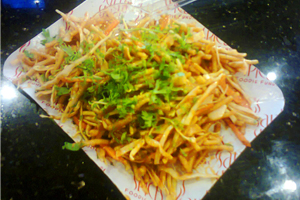 Noodle Bhel
---
| | | |
| --- | --- | --- |
| Type | :&nbsp&nbsp | Vegetarian |
| Calories | :&nbsp&nbsp | 73 |
| Cuisine | :&nbsp&nbsp | Indian |
| Course | :&nbsp&nbsp | Appetizer |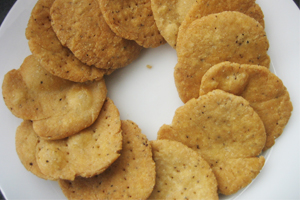 Mathri (Materi)
---
| | | |
| --- | --- | --- |
| Type | :&nbsp&nbsp | Vegetarian |
| Calories | :&nbsp&nbsp | 30 |
| Cuisine | :&nbsp&nbsp | Indian |
| Course | :&nbsp&nbsp | Appetizer |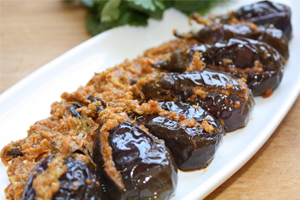 Stuffed Brinjal
---
| | | |
| --- | --- | --- |
| Type | :&nbsp&nbsp | Vegetarian |
| Calories | :&nbsp&nbsp | 163 |
| Cuisine | :&nbsp&nbsp | Indian |
| Course | :&nbsp&nbsp | Appetizer |