Sausage and Pepper Frittata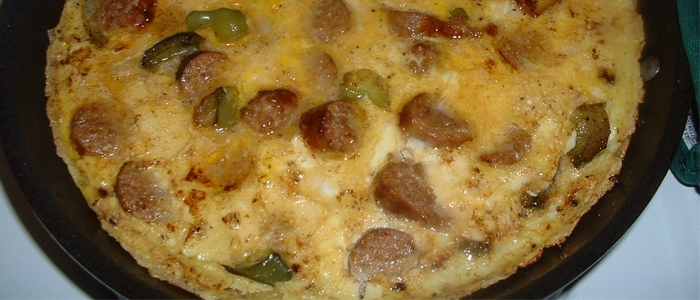 ---
| | | |
| --- | --- | --- |
| Cuisine | : | Mexican |
| Calories | : | 445 |
| Type | : | Non Vegetarian |
| | | |
| --- | --- | --- |
| Serving Size | : | 4 |
| Course | : | Main |
| Preparation Time | : | 35 Min |
---
INGREDIENTS
| No | Ingredient | Quantity | Measure Type |
| --- | --- | --- | --- |
| 1 | Red bell pepper | 1 | |
| 2 | Yellow bell pepper | 1 | |
| 3 | Olive oil | | |
| 4 | Hot Italian sausage | 3 | |
| 5 | Parmigiano-Reggiano | 1 | Cup |
| 6 | Water | 1/4 | Cup |
| 7 | Salt | To taste | |
| 8 | Egg | 12 | |
---
Recipe Details
This is an attractive and easy meal to make. It tastes good with a side of spinach cooked in sesame oil.
---
Cooking Instructions
Preheat the oven to 350 degrees F.

Coat a nonstick 10-inch saute pan with olive oil. Add the sausage and brown. Add the peppers and saute until they are soft.

In a bowl, add the Parmigiano to the beaten eggs and season lightly with salt. Using a heat-proof rubber spatula, stir the eggs into the pan with the sausage and peppers. Stir the eggs to evenly distribute the sausage and peppers throughout the eggs. Once the eggs set on the bottom and around the sides of the pan, place the pan in the preheated oven for 7 to 8 minutes or until the eggs are cooked through. Remove from the pan.
---
Garnishing Instructions
Not Available.
---
Serving Instructions
Cut into wedges and serve hot or a room temperature.
---
Related Recipes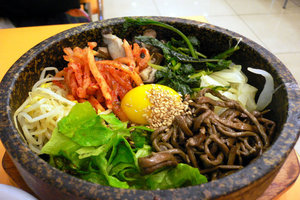 Dol Sot Bi Bim Bap
---
| | | |
| --- | --- | --- |
| Type | :&nbsp&nbsp | Non Vegetarian |
| Calories | :&nbsp&nbsp | 560 |
| Cuisine | :&nbsp&nbsp | Korean |
| Course | :&nbsp&nbsp | Main |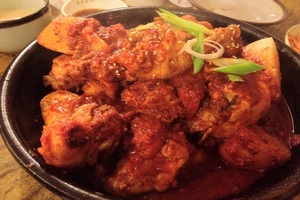 Korean Spicy Chicken and Potat..
---
| | | |
| --- | --- | --- |
| Type | :&nbsp&nbsp | Non Vegetarian |
| Calories | :&nbsp&nbsp | 673 |
| Cuisine | :&nbsp&nbsp | Korean |
| Course | :&nbsp&nbsp | Main |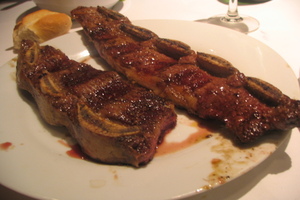 Kalbi (Korean BBQ Short Ribs)
---
| | | |
| --- | --- | --- |
| Type | :&nbsp&nbsp | Non Vegetarian |
| Calories | :&nbsp&nbsp | 658 |
| Cuisine | :&nbsp&nbsp | Korean |
| Course | :&nbsp&nbsp | Main |