Potato & Leek Soup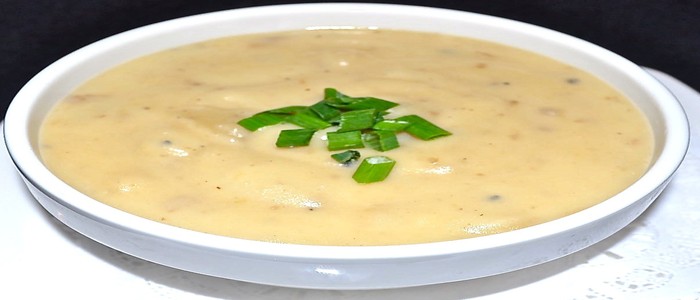 ---
| | | |
| --- | --- | --- |
| Cuisine | : | Irish |
| Calories | : | 373 |
| Type | : | Vegetarian |
| | | |
| --- | --- | --- |
| Serving Size | : | 10 |
| Course | : | Soup |
| Preparation Time | : | 80 Min |
---
INGREDIENTS
| No | Ingredient | Quantity | Measure Type |
| --- | --- | --- | --- |
| 1 | Butter | 4 | Tablespoon |
| 2 | Leeks | 2 | large |
| 3 | Potato | 2 | Lb |
| 4 | Milk | 3 | Cup |
| 5 | Chicken stock | 5 | Cup |
| 6 | Chives | 1/4 | cup chopped |
| 7 | celery seed | 1/2 | Teaspoon |
| 8 | Dried thyme | 1/4 | Teaspoon |
| 9 | Light cream | 1 | Cup |
| 10 | Salt and ground black pepper | 0 | As required |
---
Recipe Details
This classic leek and potato soup is really quick and easy, always satisfying and nutritious too.
---
Cooking Instructions
1. In a 6 to 8 quart stockpot melt the butter and gently cook the leeks or onions, being careful not to let the leek or onion brown.
2.
Add the peeled and sliced potatoes, the milk, the stock,& the herbs.
3.
Cover and simmer gently for about an hour or until potatoes are completely cooked through.
4.
Stir together cornstarch and water.
6.
Add to soup, stirring constantly to avoid lumping.
7.
Cook for 5-10 minutes more, stirring occasionally, then puree the soup.
8.
Add the cream and gently heat, but do not boil.
9.
Season with salt and pepper.
10.
Serve with garnishes.
---
Garnishing Instructions
---
Serving Instructions
---