Patra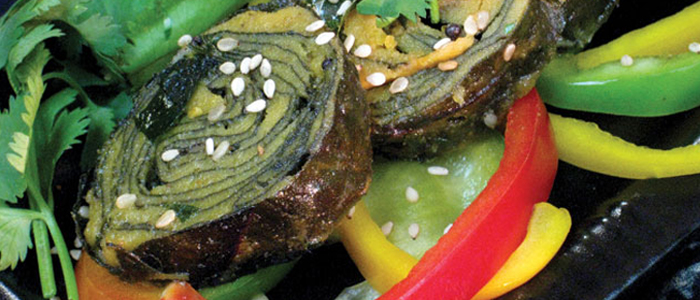 ---
| | | |
| --- | --- | --- |
| Cuisine | : | Indian |
| Calories | : | 191 |
| Type | : | Vegetarian |
| | | |
| --- | --- | --- |
| Serving Size | : | 4 |
| Course | : | Appetizer |
| Preparation Time | : | 60 Min |
---
INGREDIENTS
| No | Ingredient | Quantity | Measure Type |
| --- | --- | --- | --- |
| 1 | Gram flour (besan) | 1 & 1/2 | Cup |
| 2 | Colocassia leaves (arbi ke patte) | 12 | |
| 3 | Coriander powder | 2 | Teaspoon |
| 4 | Cumin powder | 1 | Teaspoon |
| 5 | Red chilli powder | 1 | Teaspoon |
| 6 | Turmeric powder | 1 | Teaspoon |
| 7 | Garam masala powder | 1/4th | Teaspoon |
| 8 | Olive oil | 4 | Teaspoon |
| 9 | Asafoetida | A | Pinch |
| 10 | Scraped coconut | 1/4th | Cup |
| 11 | Coriander leaves | 2 | Tablespoon |
| 12 | Salt | To taste | |
| 13 | Sesame seeds | 2 | Tablespoon |
| 14 | Soda bicarbonate | 1/2 | Teaspoon |
| 15 | Green chilli paste | 2 | Teaspoon |
| 16 | Ginger paste | 2 | Teaspoon |
| 17 | Jaggery | 3 & 1/2 | Tablespoon |
| 18 | Tamarind | 1 | |
| 19 | Mustard seeds | 1 | Teaspoon |
---
Recipe Details
Paatra (Colocasia Leave's Rolls) is very famous gujarati recipe. Paatra is made from Arbi (Colocasia) leaves. Litteral meaning of "Paatra/ Patra in gujarati is Leaves". That's why this recipe was named Paatra. The recipe has sweet, tangy and spicy taste. Paatra can be served all alone or it can be served as side dish in gujarati thali (dish).
---
Cooking Instructions
Heat sufficient water in a steamer. Trim the stems of the arbi leaves an roll a rolling pin on the back side to soften the leaves.

Place besan in a bowl, add ginger paste, green chilli paste, red chilli powder, coriander powder, cumin powder, turmeric powder, crushed sesame seeds, tamarind pulp, jaggery and sufficient water and mix into a thick paste. Add salt and mix again.

Apply this paste all over the back side of an arbi leaf. Place another leaf over this with its pointed end opposite the first one. Apply the paste over this too. Fold the sides slightly and tightly roll.

Keep the rolls on a perforated plate and keep it in the steamer. Cover with the lid and steam till done. Take the rolls out and let them cool completely. Slice into roundels.

Heat oil in a non stick pan. Chop coriander leaves. Add asafoetida, mustard seeds and sesame seeds to the oil and when they splutter add the patra slices and toss. Transfer onto a serving plate, garnish with coconut and coriander leaves and serve hot.
---
Garnishing Instructions
Garnish with coconut and coriander leaves.
---
Serving Instructions
Serve immediately.
---
Related Recipes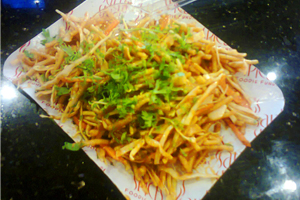 Noodle Bhel
---
| | | |
| --- | --- | --- |
| Type | :&nbsp&nbsp | Vegetarian |
| Calories | :&nbsp&nbsp | 73 |
| Cuisine | :&nbsp&nbsp | Indian |
| Course | :&nbsp&nbsp | Appetizer |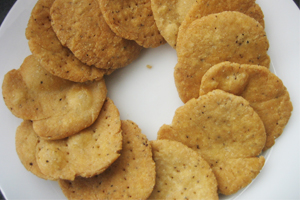 Mathri (Materi)
---
| | | |
| --- | --- | --- |
| Type | :&nbsp&nbsp | Vegetarian |
| Calories | :&nbsp&nbsp | 30 |
| Cuisine | :&nbsp&nbsp | Indian |
| Course | :&nbsp&nbsp | Appetizer |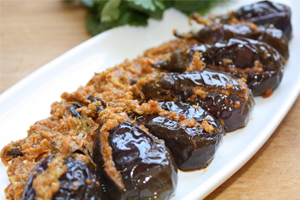 Stuffed Brinjal
---
| | | |
| --- | --- | --- |
| Type | :&nbsp&nbsp | Vegetarian |
| Calories | :&nbsp&nbsp | 163 |
| Cuisine | :&nbsp&nbsp | Indian |
| Course | :&nbsp&nbsp | Appetizer |