Papad Chat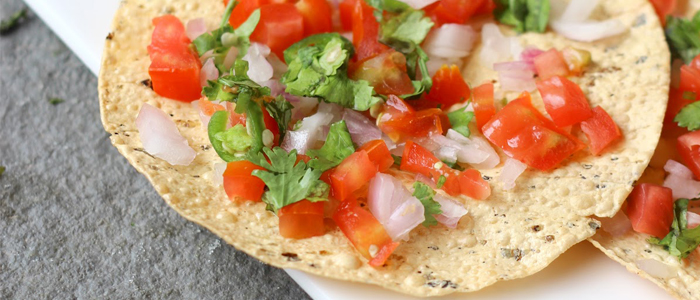 ---
| | | |
| --- | --- | --- |
| Cuisine | : | Indian |
| Calories | : | 31 |
| Type | : | Vegetarian |
| | | |
| --- | --- | --- |
| Serving Size | : | 4 |
| Course | : | Appetizer |
| Preparation Time | : | 15 Min |
---
INGREDIENTS
| No | Ingredient | Quantity | Measure Type |
| --- | --- | --- | --- |
| 1 | Onion | 1 | |
| 2 | Capsicum | 2 | Teaspoon |
| 3 | Carrot | 2 | Teaspoon |
| 4 | Chat masala | 1 | Teaspoon |
| 5 | Lemon juice | 1 | Teaspoon |
| 6 | Salt | 1/4 | Teaspoon |
| 7 | Coriander leaves | | |
| 8 | Papads | 5 to 6 | |
| 9 | Tomato | 1 | |
| 10 | Green chiliy | 1 | |
| 11 | Sweet chili sauce | 2 | Tablespoon |
| 12 | Tomato ketchup | 1 | Tablespoon |
| 13 | Plain sev | 3 | Tablespoon |
---
Recipe Details
Try this Papad Chat recipe given here - otherwise try this recipe with any of the mentioned items- Idli,Dosa,Puri,Chapathi pieces, bread pieces,boiled Sweetcorn kernels,plain biscuit pieces,Plain wafer pieces,potato wafle pieces,etc,.
---
Cooking Instructions
Microwave the 5 or 6 Papads(placing them in a circle) for 1 to 1 1/2 min on high.
Take them out and crush them(after 5 mins time) into small pieces.
Add this to the Microwave bowl with all other ingredients and mix them well.
Microwave this on high for 2-3 mins and take the bowl out.
---
Garnishing Instructions
Not available.
---
Serving Instructions
Serve this Papad Chat hot with extra Sweet Tomato Sauce separately at tea-time.
---
Related Recipes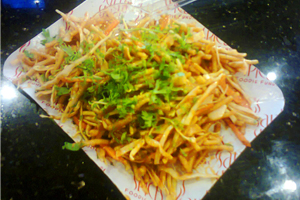 Noodle Bhel
---
| | | |
| --- | --- | --- |
| Type | :&nbsp&nbsp | Vegetarian |
| Calories | :&nbsp&nbsp | 73 |
| Cuisine | :&nbsp&nbsp | Indian |
| Course | :&nbsp&nbsp | Appetizer |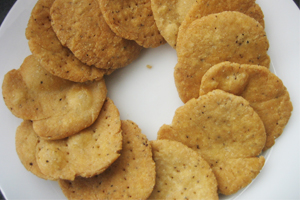 Mathri (Materi)
---
| | | |
| --- | --- | --- |
| Type | :&nbsp&nbsp | Vegetarian |
| Calories | :&nbsp&nbsp | 30 |
| Cuisine | :&nbsp&nbsp | Indian |
| Course | :&nbsp&nbsp | Appetizer |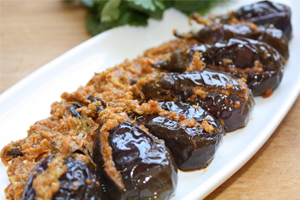 Stuffed Brinjal
---
| | | |
| --- | --- | --- |
| Type | :&nbsp&nbsp | Vegetarian |
| Calories | :&nbsp&nbsp | 163 |
| Cuisine | :&nbsp&nbsp | Indian |
| Course | :&nbsp&nbsp | Appetizer |