Paneer chilli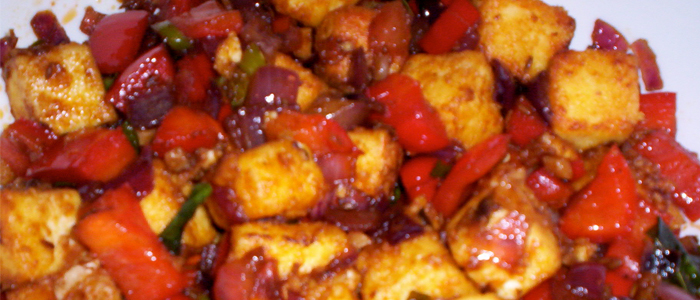 ---
| | | |
| --- | --- | --- |
| Cuisine | : | Indian |
| Calories | : | 185 |
| Type | : | Vegetarian |
| | | |
| --- | --- | --- |
| Serving Size | : | 4 |
| Course | : | Appetizer |
| Preparation Time | : | 40 Min |
---
INGREDIENTS
| No | Ingredient | Quantity | Measure Type |
| --- | --- | --- | --- |
| 1 | Paneer | 1 | |
| 2 | Capsicum | 2 | |
| 3 | Onion | 2 | |
| 4 | Coriander | | |
| 5 | Corn flour | 1 | Cup |
| 6 | Salt | to taste | |
| 7 | White pepper powder | 1 | Pinch |
| 8 | Red Food Color | 1/2 | Teaspoon |
| 9 | Green chiliy | | |
| 10 | Garlic | | |
| 11 | Ginger-garlic paste | | |
| 12 | Soda | 1 | Teaspoon |
| 13 | Soy sauce | 3 | Teaspoon |
| 14 | Tomato sauce | 4 | Teaspoon |
| 15 | Chilly sauce | 2 | Teaspoon |
| 16 | Agino moto | 1 | Pinch |
---
Recipe Details
Paneer chilli
is a melt in the mouth starter flavoured with all the ethnic Chinese flavours is an all time favourite that is really easy to prepare.
---
Cooking Instructions
Take a bowl add corn flour, red colour , salt to taste and a pinch of soda

Now dip the slices of paneer one by n fry in oil make it like a bhajia keep it aside

Now take a pan and fry onions , green chillies n capsicum in oil

Add salt and agino moto ( chinese salt)

Now add paneer pecies to it make sure that the onions n capisicum are half boiled till the end

Add gralic chopped, garlic n ginger paste

In a cup take little bit of corn floor and wet through water

Now add this corn flour paste stir it well

Add soya sauce , tomato sauce , chilli sauce and stir it well

Add white pepper powder

One tps of vinegar at last

Add the shalgam stems if posibble fry it in butter.
---
Garnishing Instructions
---
Serving Instructions
Not available.
---
Related Recipes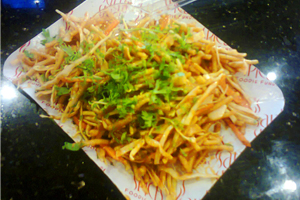 Noodle Bhel
---
| | | |
| --- | --- | --- |
| Type | :&nbsp&nbsp | Vegetarian |
| Calories | :&nbsp&nbsp | 73 |
| Cuisine | :&nbsp&nbsp | Indian |
| Course | :&nbsp&nbsp | Appetizer |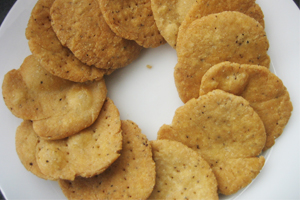 Mathri (Materi)
---
| | | |
| --- | --- | --- |
| Type | :&nbsp&nbsp | Vegetarian |
| Calories | :&nbsp&nbsp | 30 |
| Cuisine | :&nbsp&nbsp | Indian |
| Course | :&nbsp&nbsp | Appetizer |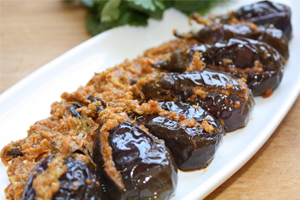 Stuffed Brinjal
---
| | | |
| --- | --- | --- |
| Type | :&nbsp&nbsp | Vegetarian |
| Calories | :&nbsp&nbsp | 163 |
| Cuisine | :&nbsp&nbsp | Indian |
| Course | :&nbsp&nbsp | Appetizer |