Paneer Paratha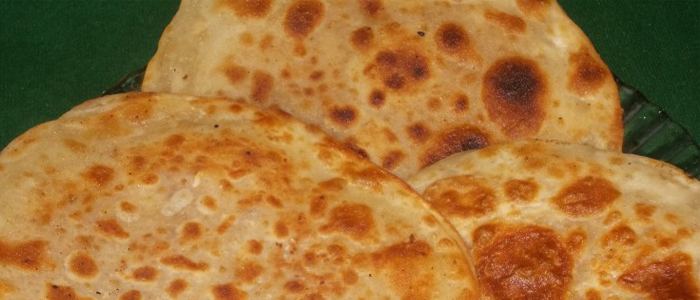 ---
| | | |
| --- | --- | --- |
| Cuisine | : | Indian |
| Calories | : | 265 |
| Type | : | Vegetarian |
| | | |
| --- | --- | --- |
| Serving Size | : | 8 |
| Course | : | Main |
| Preparation Time | : | 30 Min |
---
INGREDIENTS
| No | Ingredient | Quantity | Measure Type |
| --- | --- | --- | --- |
| 1 | Paneer | 200 | Gms |
| 2 | Amchur powder | | To taste |
| 3 | Wheat flour | 250 | Gms |
| 4 | Coriander leaves | 1 | Bunch |
| 5 | Curry leaves | 1 | Bunch |
| 6 | Salt | 1 | Pinch |
| 7 | Water | | |
| 8 | Green chiliy | 1 | Teaspoon |
| 9 | Oil | To fry | |
---
Recipe Details
Indian flat bread stuffed with paneer, staple in north India, popularly found in most of restaurants and dhabas in north India.
---
Cooking Instructions
Combine wheat flour, little salt. Mix and knead the dough, sprinkling water little by little until it form a soft, elastic ball. Add little oil and mix well. Cover the dough and let it rest for few minutes. In the meanwhile, make the paneer filling. Take a bowl, add grated paneer, green chillies chopped finely, salt to taste, amchur powder, coriander leaves, curry leaves and mix well. Make into small dumplings and keep aside. Take one piece of the atta dough and form into a ball. Dip the ball
---
Garnishing Instructions
---
Serving Instructions
Serve hot with yoghurt or curd, pickle and few rings of onions.
---
Related Recipes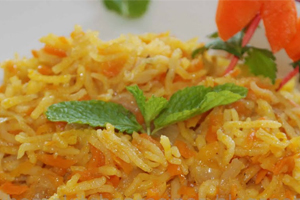 Carrot Rice
---
| | | |
| --- | --- | --- |
| Type | :&nbsp&nbsp | Vegetarian |
| Calories | :&nbsp&nbsp | 179 |
| Cuisine | :&nbsp&nbsp | Indian |
| Course | :&nbsp&nbsp | Main |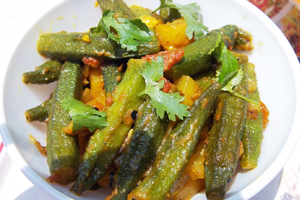 Indian Style Okra
---
| | | |
| --- | --- | --- |
| Type | :&nbsp&nbsp | Vegetarian |
| Calories | :&nbsp&nbsp | 126 |
| Cuisine | :&nbsp&nbsp | Indian |
| Course | :&nbsp&nbsp | Main |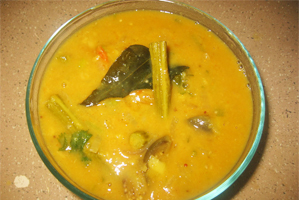 Sambar
---
| | | |
| --- | --- | --- |
| Type | :&nbsp&nbsp | Vegetarian |
| Calories | :&nbsp&nbsp | 306 |
| Cuisine | :&nbsp&nbsp | Indian |
| Course | :&nbsp&nbsp | Main |