Palak wadi
---
| | | |
| --- | --- | --- |
| Cuisine | : | Indian |
| Calories | : | 143 |
| Type | : | Vegetarian |
| | | |
| --- | --- | --- |
| Serving Size | : | 6 |
| Course | : | Appetizer |
| Preparation Time | : | 30 Min |
---
INGREDIENTS
| No | Ingredient | Quantity | Measure Type |
| --- | --- | --- | --- |
| 1 | Spinach | 1/2 | Kg |
| 2 | Asafoetida | 1 | Pinch |
| 3 | Salt | to taste | |
| 4 | Jeera | 1 | Teaspoon |
| 5 | Green chiliy | 1 | Tablespoon |
| 6 | Besan | | |
| 7 | Ginger-garlic paste | 1 | Teaspoon |
---
Recipe Details
Palak is rich in iron.really tastey snack.
---
Cooking Instructions
Mix together spinach, all masala and besan to knead a dough.

divide the dough into 5-6 portions and roll them elongated thick sausages which can be steamed.

steam them in a pressure cooker or in a steamer for 20 minutes.
remove and let them cool.cut them into wadis.

at the time of serving deep fry them or shallow fry them.
---
Garnishing Instructions
Not available.
---
Serving Instructions
Serve hot with green chutney.
---
Related Recipes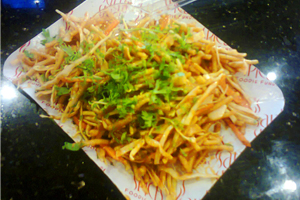 Noodle Bhel
---
| | | |
| --- | --- | --- |
| Type | :&nbsp&nbsp | Vegetarian |
| Calories | :&nbsp&nbsp | 73 |
| Cuisine | :&nbsp&nbsp | Indian |
| Course | :&nbsp&nbsp | Appetizer |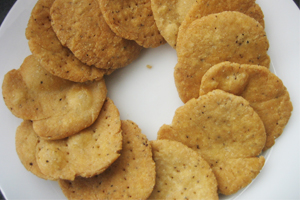 Mathri (Materi)
---
| | | |
| --- | --- | --- |
| Type | :&nbsp&nbsp | Vegetarian |
| Calories | :&nbsp&nbsp | 30 |
| Cuisine | :&nbsp&nbsp | Indian |
| Course | :&nbsp&nbsp | Appetizer |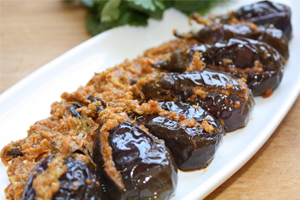 Stuffed Brinjal
---
| | | |
| --- | --- | --- |
| Type | :&nbsp&nbsp | Vegetarian |
| Calories | :&nbsp&nbsp | 163 |
| Cuisine | :&nbsp&nbsp | Indian |
| Course | :&nbsp&nbsp | Appetizer |