Lucknowi Daal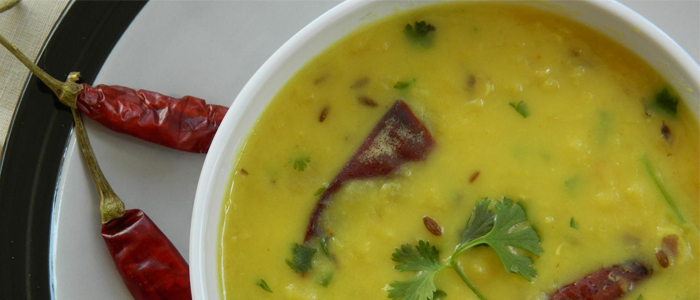 ---
| | | |
| --- | --- | --- |
| Cuisine | : | Indian |
| Calories | : | 351 |
| Type | : | Vegetarian |
| | | |
| --- | --- | --- |
| Serving Size | : | 4 |
| Course | : | Main |
| Preparation Time | : | 30 Min |
---
INGREDIENTS
| No | Ingredient | Quantity | Measure Type |
| --- | --- | --- | --- |
| 1 | Turmeric powder | 1/2 | Teaspoon |
| 2 | Salt | to taste | |
| 3 | Asafoetida | 1 | Pinch |
| 4 | Milk | 1 | Cup |
| 5 | Oil | 2 | Tablespoon |
| 6 | Coriander leaves | | |
| 7 | Tuar / arhaar daal | 1 | Cup |
| 8 | Cumin seed | 1 | Teaspoon |
| 9 | Tamarind pulp | 2 | Tablespoon |
| 10 | Garlic | 4 | |
| 11 | Green chiliy | 1 | |
| 12 | Dried red chili | 1 | Teaspoon |
---
Recipe Details
Tuar Daal cooked in Lucknowi style with a twist. Learnt from a cooking show and tried it. Thought you may like it too and try it soon.
---
Cooking Instructions
1. In a non stick deep pan add two cups of water.
2. Now add soaked daal to it.
3. Add milk and green chili and stir.
4. Bring the daal to boil.
5. Now reduce the heat and add tamarind pulp and turmeric powder.
6. Cook on simmer and meanwhile in a non stick pan prepare the tadka.
7. Heat oil and add cumin seeds and let them splutter.
8. Now add dry red chili and chopped garlic and reduce heat.
9. Add asafetida powder and salt.
10. Pour the cooked daal in a serving bowl.
11. Mix in the tadka and chopped dhaniya leaves to daal and stir.
---
Garnishing Instructions
Not available.
---
Serving Instructions
Serve hot with roti or steamed rice.
---
Related Recipes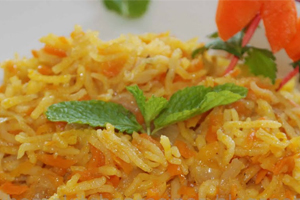 Carrot Rice
---
| | | |
| --- | --- | --- |
| Type | :&nbsp&nbsp | Vegetarian |
| Calories | :&nbsp&nbsp | 179 |
| Cuisine | :&nbsp&nbsp | Indian |
| Course | :&nbsp&nbsp | Main |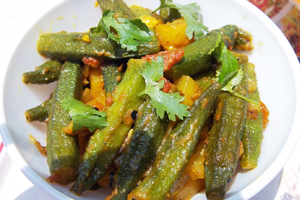 Indian Style Okra
---
| | | |
| --- | --- | --- |
| Type | :&nbsp&nbsp | Vegetarian |
| Calories | :&nbsp&nbsp | 126 |
| Cuisine | :&nbsp&nbsp | Indian |
| Course | :&nbsp&nbsp | Main |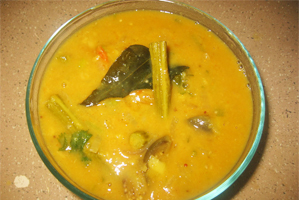 Sambar
---
| | | |
| --- | --- | --- |
| Type | :&nbsp&nbsp | Vegetarian |
| Calories | :&nbsp&nbsp | 306 |
| Cuisine | :&nbsp&nbsp | Indian |
| Course | :&nbsp&nbsp | Main |