Lemon-Basil Shrimp Salad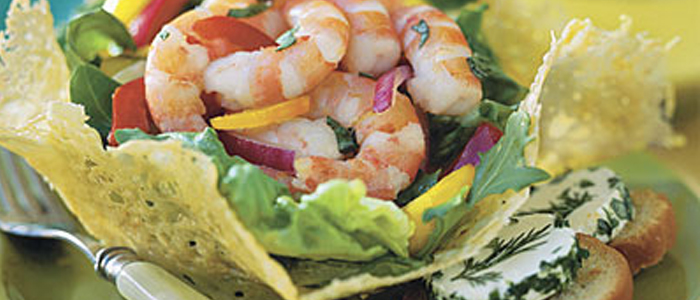 ---
| | | |
| --- | --- | --- |
| Cuisine | : | English |
| Calories | : | 225 |
| Type | : | Non Vegetarian |
| | | |
| --- | --- | --- |
| Serving Size | : | 8 |
| Course | : | Salad |
| Preparation Time | : | 20 Min |
---
INGREDIENTS
| No | Ingredient | Quantity | Measure Type |
| --- | --- | --- | --- |
| 1 | Shrimp | 3 | Pound |
| 2 | Red Onion | 1 | |
| 3 | Red bell pepper | 1 | |
| 4 | Yellow bell pepper | 1 | |
| 5 | Lemon-Basil Marinade | | |
| 6 | Basil leaves | 1/2 | Cup |
| 7 | Salad greens | 16 | Cup |
| 8 | Parmesan cheese | 8(optional | |
| 9 | Lemon Vinaigrette | | |
---
Recipe Details
Don't skip the fresh lemon rind and juice in lemon-basil marinade.
---
Cooking Instructions
1. Peel shrimp, and devein, if desired. Place shrimp and next 4 ingredients in a large zip-top plastic freezer bag. Seal and chill 8 hours or up to 24 hours, turning bag occasionally. Stir in basil 1 hour before serving. Drain and discard marinade just before serving.
2. Divide greens evenly between Parmesan Baskets or serving bowls; arrange drained shrimp mixture evenly over lettuce.
---
Garnishing Instructions
Not available.
---
Serving Instructions
Serve with Fresh Lemon Vinaigrette.
---