Keema-Poha Biryani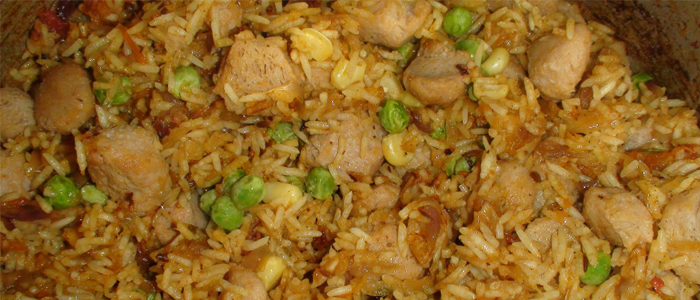 ---
| | | |
| --- | --- | --- |
| Cuisine | : | Indian |
| Calories | : | 338 |
| Type | : | Non Vegetarian |
| | | |
| --- | --- | --- |
| Serving Size | : | 4 |
| Course | : | Main |
| Preparation Time | : | 45 Min |
---
INGREDIENTS
| No | Ingredient | Quantity | Measure Type |
| --- | --- | --- | --- |
| 1 | rice flakes(poha) | 4 | Cup |
| 2 | Mutton | 350 | Gms |
| 3 | Onion | 2 | |
| 4 | Turmeric powder | 1/4 | Teaspoon |
| 5 | Ground allspice | 1 | Tablespoon |
| 6 | Garam masala | 1/2 | Teaspoon |
| 7 | Coconutmilk | 1/2 | Cup |
| 8 | Coriander leaves | | |
| 9 | Mint leaves | | |
| 10 | Salt | 1 & 1/2 | Teaspoon |
| 11 | Refined oil | 2 | Teaspoon |
| 12 | Ghee | 2 | Teaspoon |
| 13 | Ghee | 1 | Tablespoon |
| 14 | Bay leaves | 2 | |
| 15 | Lemon | 1/2 | |
| 16 | Few ghee-roasted cashews | | |
| 17 | Water | 1 | Cup |
| 18 | Ginger-garlic paste | 1 & 1/2 | Teaspoon |
| 19 | Tomato puree | 1 | Tablespoon |
| 20 | Green chiliy | 3 | |
---
Recipe Details
This Poha-Keema Biryani tastes so good with minced mutton.Vegetarians can try this recipe with Soya Granules-3 whistles and mixed vegetables-2 whistles(thereby reducing the spices),with noodles or rice flakes or wheat granules.
---
Cooking Instructions
First,marinate the minced mutton with ginger-garlic paste,lemon juice and 1/2 tsp salt for 20 mins.

Prepare the ground masala of 4 whole red chillies,1/2 tsp coriander seeds,1-clove,1/2 inch cinnamon stick,1 cardamom,1/2 tsp aniseed,1/4 star-anise and 1/4 tsp nutmeg powder.Add this masala to the minced mutton marination.

Cut the Onions and Chop the coriander and mint leaves.Prepare the coconut milk.

Ghee-roast the washed rice flakes with 1 tbsp ghee.keep this aside.

Heat oil and 2 tsp ghee in a pressure pan and add crushed bay leaves,1-clove,1/2 inch cinnamon stick,1 cardamoms,1/2 star-anise - crushed.

Add and saute the onion slices till golden brown or for 4-5 mins.

Add the tomato puree and slit green chillies and saute for 3 more mins

Add the marinated keema along with the marinade(by this time the minced mutton gets marinated for 20 mins).Add turmeric powder,1 1/4 cup second coconut milk,1/2 cup thick coconut milk,half the chopped coriander and mint leaves and pressure cook for 10 mins or up to 5 whistles on good flame.

Immediately turn off the flame.Wait for the pressure to be released.

Open the pan lid and add the little soaked rice flakes, garam masala powder,100 ml(1 cup) water if needed,the remaining chopped coriander and mint leaves and 1 tsp salt.Mix well and stir this till rice-flakes blends well with the keema and masala.Turn off the flame.
---
Garnishing Instructions
Garnish with ghee-roasted cashew nuts.
---
Serving Instructions
Mix this Keema Poha Biryani well before serving with Cucumber-Onion raita.
---
Related Recipes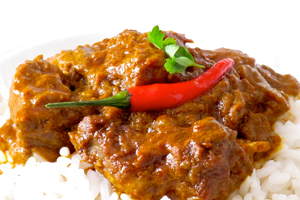 Kashmiri Lamb
---
| | | |
| --- | --- | --- |
| Type | :&nbsp&nbsp | Non Vegetarian |
| Calories | :&nbsp&nbsp | 489 |
| Cuisine | :&nbsp&nbsp | Indian |
| Course | :&nbsp&nbsp | Main |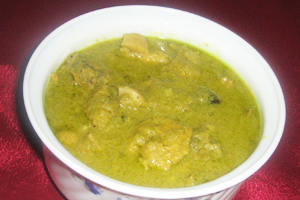 Spicy Indian Chicken with Gree..
---
| | | |
| --- | --- | --- |
| Type | :&nbsp&nbsp | Non Vegetarian |
| Calories | :&nbsp&nbsp | 190 |
| Cuisine | :&nbsp&nbsp | Indian |
| Course | :&nbsp&nbsp | Main |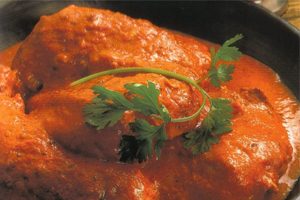 Chicken Curry (Murgh Kari)
---
| | | |
| --- | --- | --- |
| Type | :&nbsp&nbsp | Non Vegetarian |
| Calories | :&nbsp&nbsp | 427 |
| Cuisine | :&nbsp&nbsp | Indian |
| Course | :&nbsp&nbsp | Main |