Keema (Indian-Style Ground Meat)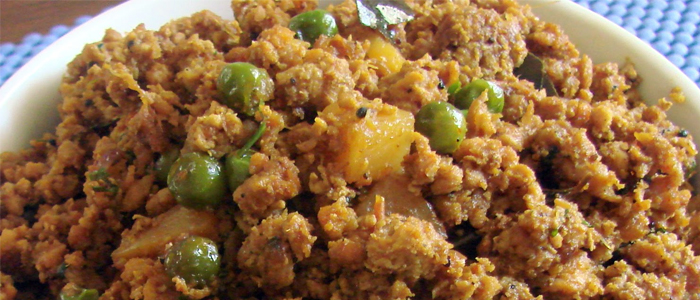 ---
| | | |
| --- | --- | --- |
| Cuisine | : | Indian |
| Calories | : | 513 |
| Type | : | Non Vegetarian |
| | | |
| --- | --- | --- |
| Serving Size | : | 4 |
| Course | : | Main |
| Preparation Time | : | 25 Min |
---
INGREDIENTS
| No | Ingredient | Quantity | Measure Type |
| --- | --- | --- | --- |
| 1 | Ground lamb | 1 & 1/2 | Pound |
| 2 | Onion | 1 | |
| 3 | Garam masala powder | 2 | Tablespoon |
| 4 | Salt | 1 | Teaspoon |
| 5 | Tomato paste | 4 | Teaspoon |
| 6 | Garlic | 2 | Clove |
| 7 | Beef broth | 3/4 | Cup |
---
Recipe Details
Serve over rice or noodles for a quick, flavorful meal. This recipe may be modified by adding peas (mattar), potatoes, or any other vegetable you like. It can also be used as a samosa or pastry filling.
---
Cooking Instructions
In a large heavy skillet over medium heat, cook ground lamb until evenly brown. While cooking, break apart with a wooden spoon until crumbled. Transfer cooked lamb to a bowl, and drain off all but 1 tablespoon fat. Saute onion until soft and translucent, about 5 minutes. Stir in garlic, and saute 1 minute. Stir in garam masala and salt, and cook 1 minute. Return the browned lamb to the pan, and stir in tomato paste and beef broth. Reduce heat, and simmer for 10 to 15 minutes or until meat is fully cooked through, and liquid has evaporated.
---
Garnishing Instructions
Garnish with chopped coriander leaves, split green chilli and a blob of butter.
---
Serving Instructions
---
Related Recipes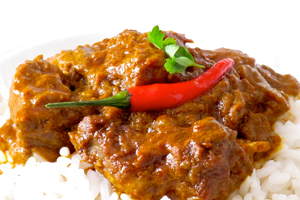 Kashmiri Lamb
---
| | | |
| --- | --- | --- |
| Type | :&nbsp&nbsp | Non Vegetarian |
| Calories | :&nbsp&nbsp | 489 |
| Cuisine | :&nbsp&nbsp | Indian |
| Course | :&nbsp&nbsp | Main |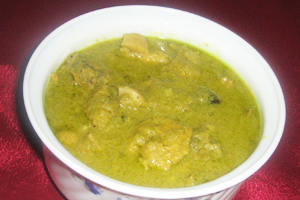 Spicy Indian Chicken with Gree..
---
| | | |
| --- | --- | --- |
| Type | :&nbsp&nbsp | Non Vegetarian |
| Calories | :&nbsp&nbsp | 190 |
| Cuisine | :&nbsp&nbsp | Indian |
| Course | :&nbsp&nbsp | Main |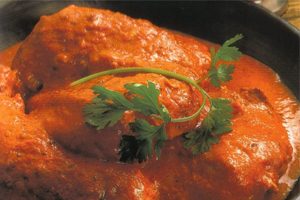 Chicken Curry (Murgh Kari)
---
| | | |
| --- | --- | --- |
| Type | :&nbsp&nbsp | Non Vegetarian |
| Calories | :&nbsp&nbsp | 427 |
| Cuisine | :&nbsp&nbsp | Indian |
| Course | :&nbsp&nbsp | Main |