Kadai Paneer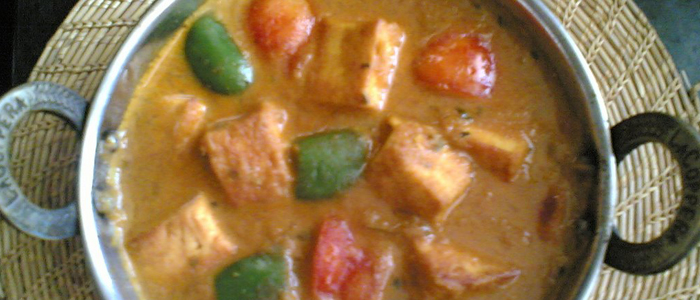 ---
| | | |
| --- | --- | --- |
| Cuisine | : | Indian |
| Calories | : | 529 |
| Type | : | Vegetarian |
| | | |
| --- | --- | --- |
| Serving Size | : | 4 |
| Course | : | Accompliments |
| Preparation Time | : | 30 Min |
---
INGREDIENTS
| No | Ingredient | Quantity | Measure Type |
| --- | --- | --- | --- |
| 1 | Butter | 3 | Tablespoon |
| 2 | Green bell pepper | 2 | |
| 3 | Kasoori methi | 1/2 | Teaspoon |
| 4 | Paneer | 1 & 1/2 | Lb |
| 5 | Salt | | To taste |
| 6 | Garlic | 4 | Clove |
| 7 | Ginger | 1 | Inch |
| 8 | Green chiliy | 1 | |
| 9 | Red tomatoes puree | 4 | Cup |
---
Recipe Details
Kadai Paneer, One of the Easiest

Paneer recipie
i have tried so far. Kadai Paneer is nothing but a simply, mild spicy & flavorful side dish using Paneer & Bell Pepper/Capsicum with the prepared kadai masala. And the most important part is this dish should be prepared in a kadai/wok. Sounds interesting right?
---
Cooking Instructions
1. Slice paneer and bell pepper into thin long strips
2. Grind ginger ,garlic and green chilly into a paste.
3. Heat ghee in kadai or any vessel add paste ,saute till it become brown .
4. Add bell pepper ,cook for few second ,then add chiliy powder and salt.
5. Now add tomato puree and cook until ghee comes on top
6. Mix kasoori methi in gravy .
7. Finally ,add the sliced paneer and cook for a min
---
Garnishing Instructions
Garnish with cream and cilantro.
---
Serving Instructions
Kadai Paneer is to be served with hot chapatis/rotis , phulkas or Naan
and also with any pulao rice varities.
---